Trekking in Darjeeling and Sikkim
Posted by
Swairik Das
on Date January 8, 2014
Who was afraid of whom I don't know but we stared at each other…
Let me tell you the truth what the rumor is…
One of the mighty hill stations that the people of Bengal must be pride of is Darjeeling. The rumors are that the hill station has turned out as a lofty city in the midst of rich tea plantations rolling down the slopes. They say that Darjeeling was once at serenity BUT today it is tucked in crowd and clamor… vast infrastructural development that took place ruined its natural virtuality.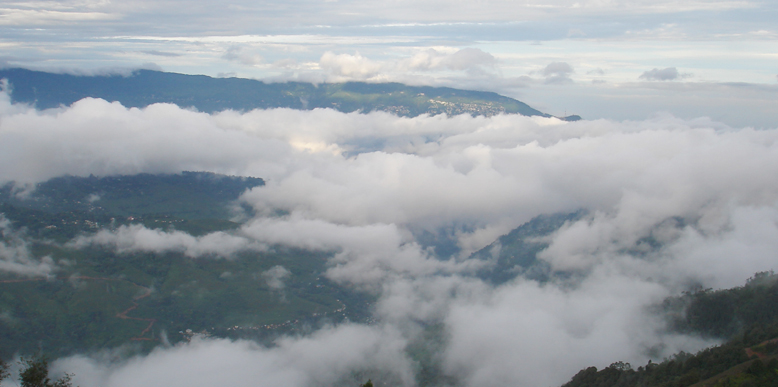 The Fact…
True to some extend but still I'll say it's a rumor. Darjeeling still pulls in myriad tourists – leisure and business travelers, honeymooners, college escaped kinky couples and adventurers. It's an easy weekend escape for the people from nearby cities like Kolkata and Patna… moreover people around the globe too. Darjeeling still uphold its dignity as one of the mighty hill stations in India that not only serves as an eminent commercial hub in the Gorkha Hilly region but the stunning backdrop of towering snowcapped peaks overtopping the evergreen forest and terraced tea gardens, still feast travelers eyes. The colonial colors arraying down the indigenous alleys and the cultural aroma of the pahari people (mostly the Gorkha) and in contrast the modern infrastructure, multi-cuisine restaurants, bar, pubs and hotels… just makes it a perfect getaway. Nonetheless Darjeeling is also a popular stopover to adventurers, mostly trekkers, making it one of the trekking destinations in India as well… and popular and only one is the Sandakphu-Phalut Trek.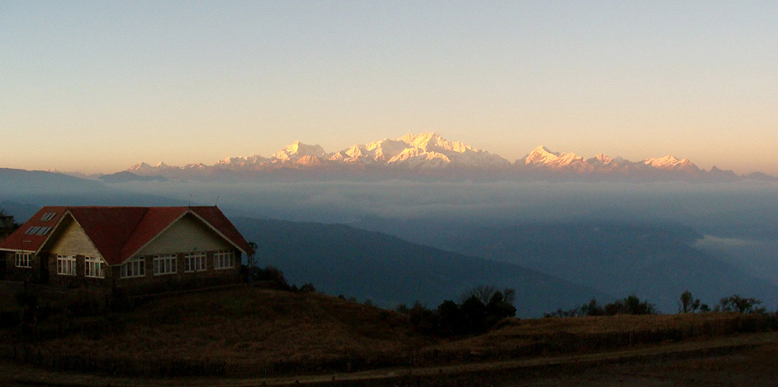 A nomad in real life who captured the 180° view of the farfetched highest crests… The Sandakphu-Phalut Trek
"You ask me why I love the mountains.
I smile in the silence and quiet mind
Seeing the golden horizon with the heavenly sky
To the deep green valleys and the floating white wings
Far from the humankind."
The journey started in the midst of a misty dawn once in the month of February. It was around 3.30 am when I deboarded the Teesta Torsa Express at the New Jalpaiguri Station. It wasn't that cold as I expected but it was still dark and foggy and we were longing for the rays to break and wheel us onto the Hill Cart Road towards Darjeeling. After a cup of tea… 'CUP??? It was offered in a glass actually'… we steered and whirled to our destination, passing through the dewed tea gardens and several mounds bedded in rich evergreen forest. We could feel the changes in the climate when the SUMO smoothly wheeled up the windy road and the fresh morning rays peeked out beating the mist. It wasn't that freezing but the cold breeze against our drive made us to roll up the windows. The amazing view at the horizon, lush green mountains rising above the clouds and sunrays befalling to make the sky brighter, kept us bustle on clicks. It seemed we were closing to heaven, far from mankind… JUST THE WARM BREATH of four of us includes the driver and the sound of the motor as an additional score.
It was my third visit to this part of India. The first weekend escape was to Pelling and Ravangla in West Sikkim and the second was a long vacation with my family to North Sikkim.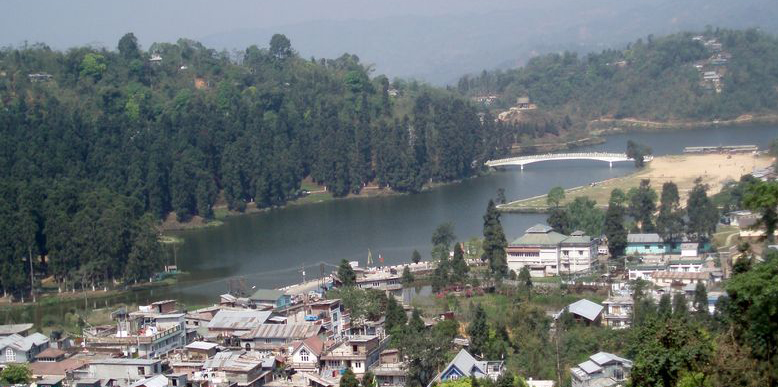 The SUMO came to a stopover at around 7.30. The tea break that was mostly needed. To our surprise we were standing overlooking the sparkling Mirik Lake, also known as Sumendu Lake, which is set amid the picturesque ambiance surrounded by mountains layered with thick forest. We spent nearly an hour there getting hold of the nature captured in our lenses… further some serious bird watching and exploring the local alleys. The driver steered the wheels towards Rameetay Dara and our next halt was at the Bokar Monastery, which is a popular Buddhist meditation center. The pleasing atmosphere only let us to acquaint the whispering wind and solemn morning prayers inside the monastery.
Our next stop was at Maneybhanjang, which was approximately couple of hours from Mirik and Darjeeling was an hour or so from the junction. WELL IT IS A JUNCTION when I came to know from the driver that the road to Dhotrey cuts from here. Maneybhanjang is a small town that comes on the way to Darjeeling BUT we decided to take the off ramp to Dhotrey. (Thank god that we didn't book any hotel in advance in Darjeeling.) That bumpy drive to Dhotrey was rather life-threatening than it was tiring… steep ascends and in addition potholes and sharp turns. So that mulled me many times, we were driving to one of the remote places in North Bengal. Our SUMO slued twice on the way but the driver was smart enough to control and we were also smart enough to constrain our breath.
'So what's the plan?' I asked one of my mates after reaching Dhotrey.
Dhotrey is a remote village that is perched at a height of 2700 meters and after reaching we came to know that it is the gateway to the popular Sandakphu-Phalut Trek. Well… after having a homely lunch at one of the locals we decided to spend rest of the day at Dhotrey and the local family guided us to a trekker's hut. No hot water… no electricity, the room was only equipped with three beds (like that of size of a berth in a general compartment in a train), three blankets and pillows, two candles, one match box, one glass and a jug. So after 17 hours of long journey from Kolkata to Dhotrey… we were hospitably placed in an uncomfortable shelter.
I thought it was just one night to live like a NOMAD unless and until we had the BRANDY CHALLENGE that turned our following morning to hit the off ramp to Tonglu. We were supposed to drive to Darjeeling, but our beloved driver became our guide for the unplanned Sandakphu-Phalut Trek. Our driver cum guide was a local from Maneybhanjang and was also an authorized guide. Tonglu, en route the steep and curvy climb amid the dewed forest, is approximately 5 kms up from Dhotrey and it took us roughly and comfortably 3-4 hours with one fag halt. It was approximately 11 in the morning and weather being friendly we decided to head for Tumling after having lunch at the trekker's hut and spending few hours near the Tonglu lake, which is set in the midst of a lush green meadow, reflecting the vast mountain scape. Lucky enough that we got our first glimpse of the Kanchenjunga range from that point.
"You ask me why I dwell in the mountains?
I cry and I can cry out loud for my heart is free of care
Seeing the distant snowcapped peak
I try to reach her my voice
And I listen to my own cry when she replies."
The next stretch was a short and easy one to Tumling, which is approximately 2 kms from Tonglu. That was our first campsite nestled at an altitude of 2970 meters. [Just for your information Tumling is much more equipped with facilities and lodges than Tonglu.] It was freezing cold then and we preferred to remain in our blanket. Our driver brought us our dinner and a bottle of brandy. The night then became comfortable.
The following morning, after tea and breakfast, our trail commenced towards Giribas en route Jhaubari, which is remote village in the border of India and Nepal. The trek from Tumling to Giribas was a gradual descend and passes the Singalila Park entry check post. It is approximately 7-8 kms from Tumling and takes roughly 4-5 hours. Well, one can head towards Kalipokri on the same day but we decided to take the night halt at Giribas, which is set in the middle of beautiful meadow. It seemed that our BRANDY CHALLENGE was written well beforehand and the trek to Sandakphu-Phalut was a kismet.
"You ask me why I find peace in the mountains?
The city is down with curses
And here even when a lonely cloud floats leisurely by
It gives me to breathe fresh air when it passes by
And when I see the same ridge again
It comes with a far horizon that flashes by."
A pleasing afternoon that greeted me an empurpled mood… quite yet marked by conspicuous display of nature where the clouds floated under my feet and the horizon blinked brightly against my city memoirs. That was one of the quixotic moments, later I was accompanied by an untamed visitor.
A rare sight to catch on such treks when you come across one of the wild life admiring your quixotic mood. For me the Red Panda appeared in front of me like a jinn. Who was afraid of whom I don't know but we stared at each other. I knew I was the odd one in this place, still it seemed that the Panda actually liked my presence. I was not in a situation to make any guess or move out of that place. Slowly I took out my camera and just when I tried to click… the flashlight scared it away giving me a capture of its furry back.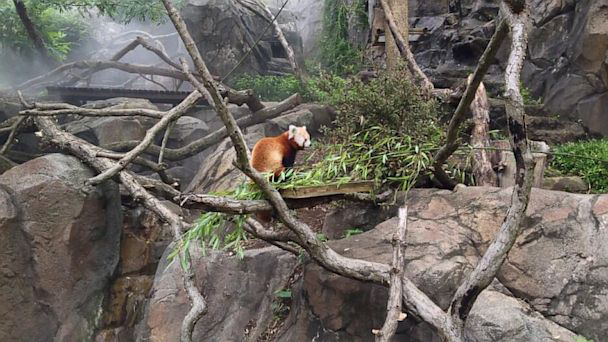 So that was a moment from Giribas and the following morning our trail of further 7-8 kms headed towards Kalipokhri. This stretch was a steep climb of 3-4 hours but it offered a spectacular scenic beauty that dilates the vast forest of rhododendrons and passes through the Singalila Sanctuary that is dotted with several species of plant and animal life.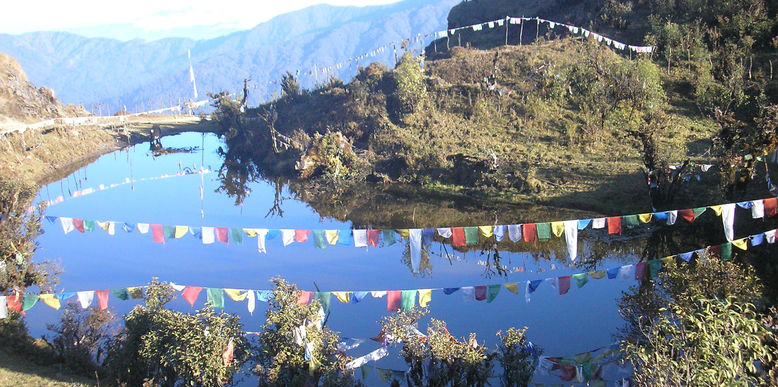 We continued our trail en route a pond towards Kalipokhri village. It is said to be a holy place for the Buddhist and the locals worship the black lake and no one is allowed to take a swim or a dip in this lake. Nonetheless the climate and the environment were surprisingly pleasant even at an altitude above 3000 meters. Just after having lunch at one of the lodges in Kalipokhri I decided to come out to enchant and explore the natural ambiance. Though I came across some leeches but that didn't stop me to walk deep into the jungle alone and to spot some wild species. MAY BE INTENTIONAL APPROACHES DOSEN'T WORK OUT… GIRIBAS WAS UNEXPECTED.
"You ask me why I find homely in the mountains?
Keeping company with moon, I never lost my way
Looking back I see the paths I have taken
Blue then, blue beneath the skyline
The moon greeted me with hidden tracks
Revealing the secrets in the forest
Even a leaf becomes a home down my way."
Something was fetching me the night at Kalipokhri when the moon shone brighter. I asked one of my mates to accompany me for an hour to the moonlit nature. It was a night that may not come back… even the broken tracks passing through the jungle seemed known to me and the strange sounds befalling my ears each second echoed to throb my heart. Nothing that I acquainted physically but the chilling calmness and holy moonlit was more than a wild experience.
The next morning from Kalipokhri our trail commenced towards Sandakphu, which was approximately 6 kms away en route the 'valley of poison', Bikheybhanjang. It is another small hamlet on the way and the name means "Valley of Poison" because of the poisonous Aconite plants that grow in plenty around this place. We started bit early at around 4.30 so that to capture the golden horizon right at the day break. After crossing Bikheybhanjang the climb was the steepest and we had a glimpse of our destination on the trail. The trail unfolds some steep gradients where chances are high to slip. But as always, the final rewards are awesome. All your fears will disappear to a jaw breaking sight just when you step onto the patch of snow and as you see the board "Welcome to Sandakphu".
Sandakphu, at an altitude of 3636 meters, is the only point in the Indian Himalayan region that discloses a 180° vista of some of the highest and most beautiful peaks of the world, right from Nepal all the way up to Arunachal. Some of the greatest peaks include the Mt Everest, Makalu, Kanchenjunga, Lhotse, Chomolhari, Pandim, Three Sisters, Kumbhakarna etc. But our luck wasn't there with us… as we were highly expecting to get a glimpse of Mt. Everest. Anyways our luck favored us to capture the mighty Kanchenjunga range that was shinning aureately, which seemed just few kilometers away from us.
After spending couple of hours at the summit… we headed towards Phalut passing through a sprawling meadow gently layered in snow and few stretches of ups and downs. The 4-5 hours trail from Sandakphu to Phalut was an easy trail and the altitude is approximately same to that of Sandakphu. After crossing the Thukumb Check post our track Sabarkum wherefrom the trail winded towards Phalut. On our way at the base of the Phalut summit we came across few trekkers hut where we unloaded our backpacks and straightaway headed for the summit to grab the sight of Mt. Everest. I thought at around 1 pm nothing could be visible… but after reaching the summit even a QUICK PEEK of the highest point in the world right behind the clouds was just like capturing a sight of heaven for a moment… 'And it still reflects'.
After spending an hour or so at the summit we came down to base and stepped inside the trekkers hut. The following morning we tried our luck once again at the summit to get another glimpse of Mt. Everest but it didn't favor. Our down trail from Phalut to Sirikhola via Sabarkum and Molley started approximately 9 in the morning. It took us approximately 9 hours to reach Sirikhola after having lunch at Sabarkum. From Sirikhola, the next morning, we drove to Darjeeling.
"You ask me why I don't want to return back to the plains?
Wind in the vales still outcries my voice
Every droplets falling from the leaves recalls my tears
The clouds floating aimlessly shows me the distance yet to cover
And the misty morning cold holds my breath forever."
'Just too tired…I need a sleep of 48 hours at a stretch…don't wake me up', I expressed as soon as I entered the room having a cozy bed. I don't know whether my crew heard me or not but I felt they were quite exhaust to listen and understand me… I saw one of them making his place to sleep on the carpet. Damn he didn't even try to reach the bed. We had a missing following day from our lives.
Let's Drive…
ONTO a territory that affirm solemnly more than 80 glaciers, 227 high-altitude lakes and five major hot springs tempting few crazy but dedicated travelers.
Sikkim welcomes you…
"A journey I never thought of,
from the green tinged brown vales
to the crystal blue lakes and snow-clad crests,
from the deep rich ravine to the marooned ridges."
For the Nepalese it's Sukhim or New Home, for the Tibetans it's Denzong or the valley of rice and for the Lepchas it's Nye-al-Ale or Heaven and for rest of the world it's Sikkim, endowed land of abounding ambiance arrayed with rugged ridges in the shadow of divine Mt. Kanchenjunga and its family, is highly rich in varied ethnic culture. The tiny yet myriad espies, the rambling tracks yet places unexplored, the essence amidst the crowd yet the invigorating air and their far-famed cuisine yet the taste slurps, makes Sikkim to an escaping vacation from the summer heat for the nigh domestic tourists and an alluring holiday in India for travelers worldwide.
"A gift of legacy among the inheritance…
gratifying, cherished and affectionate
and the confluence inspired me out with cultism
from my own profound cursed existence."
The folk songs, folk musical instruments, traditional dresses, folk dances, ornaments and festivals differs the three ethnic cultures. Zo-Mal-Lok, Chu-Faat, Tendong Lo Rum Faat and Kinchum-Chu-Bomsa are among the Lepcha folk dances, Denzong-Neh-Na, Ta-Shi-Yang-Ku, Tashi Shabdo, Guru-Chinlap, Singhi Cham and Yak-Cham are among the Bhutia folk dances and Maruni, Chutkay, Dohori, Jeurum Silly, Tamang Selo, Lakhey (Mask) dance, Naumati, Chyap-Brung Dance and Dhaan Nach are among the Nepali folk dance. Sikkim also beholds a blessing from a great Buddhist Saint, Guru Padmasambhava who visited the land in the 8th century and later in the seventeenth century three learned lamas entered Sikkim and established a Buddhist Monarchy that led to influence the essence of Buddhism in every corner of the state leading more than two hundred monasteries.
"A divine strength that perked up… a contrast of my own paradigm,
I esteemed their prayers and tried to empathize,
the chorus still echoes reaching out far vales…
along with my journey granted all my way."
Sikkim, beacons with its avifauna and flora and is also considered the hot spot of biodiversity in the Himalayan range, is criss-crossed with many small tributaries and distributaries of Teesta River and Rangit River.
"The tiny yet myriad espies and
rambling tracks yet places unexplored"
Something that beholds the heathen territory secluded within the lofty ranges of the Himalaya… I will walk miles on foot to reach beyond the horizon. Yup! I'm talking about trekking in Sikkim the land of three ethnic cultures – the Nepalis, Bhutias and Lepchas. The destinations perched at a higher altitude where human habitation extinct and displays a vast ecosphere, Sikkim trails are comparatively much wilder, greener and trekkers' fervor. Something that still flashes in my dreams is to cover up one such mighty pleasure and seek the hospitality of the locals other than exploring and snapping bits and bytes of rugged trailing tracks and 180° vista of the snowscape towers. I score much of the Sikkim trails from the words of Lin Bartle, whom I met on one of the winter treks in the Indian Himalayan region, popularly known as the Frozen river trek or Chadar Trek in Ladakh.
Lin Bartle, from Denmark, is a frequent traveler to India. Much of her Indian travel diaries are inspired by her brother Russell. On my 10 days trail in Ladakh she shared one of her travel stories on one of the heartbreaking uphill climbs in Sikkim.
Remote yet colorful… onto the Dzongri Goecha la Trek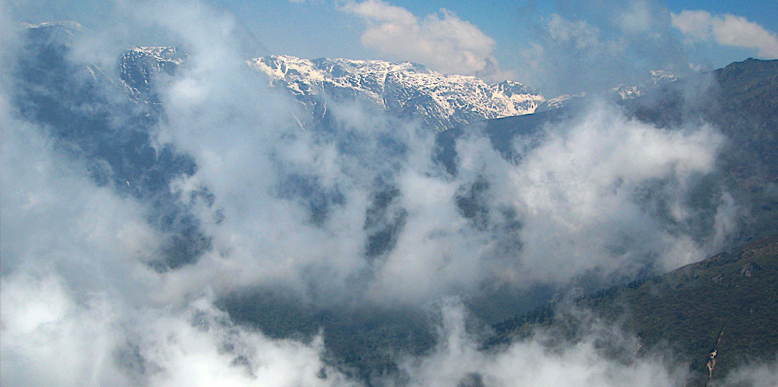 I was supposed to walk the tracks but unfortunate things happens fortunately and I had to pay a South India Temple Tour with my sacred family. So here I'm sharing the words from an email I received from Lin last year.
"Hi Ricky Boy!
Writing this from Machu Pichu, Peru… I'm off to it at last!
Hope things are fine at your end, what's your score now? Well few months back I covered up the Dzongri Goecha la trek, which was simply mind blowing and to my surprise I never had the knowledge that part of the Himalaya is so green, rich and wild. Each and every turn I made I acquainted the nature differently. The ascends were rugged but vibrantly arrayed. This time and for the first time I was with my brother, his wife and there were other Indian members in our crew.
It's a place, somewhere in North Bengal, Siliguri, where from we drove to the trendy town of Gangtok. Wow! That too surprised us. Pubs, restaurants and hill resorts at each corner made Gangtok so showy. My brother once visited Gangtok at his twenties, and on this trail he discovered Gangtok a hilltop city rather than what he acquainted 20 years back, Gangtok as a refreshing hub.
Anyways after reaching Gangtok our first sight was the Mall Road… TRUST ME RICKY that was so vibrant. Thereafter we stepped on to the cultural and religious floor of the Rumtek Monastery, which seemed I have stepped onto the floor of nirvana, absolute peace and blissful. Our next was a drive to one of the major attractions near Gangtok, the Nathu La en route the Changu Lake. I hope you are well aware of these stunning spots. Changu Lake in the midst of snowfed-slope mountains was more like a heaven to me. Ricky… if you get a word above heaven then kindly dub it to Changu Lake.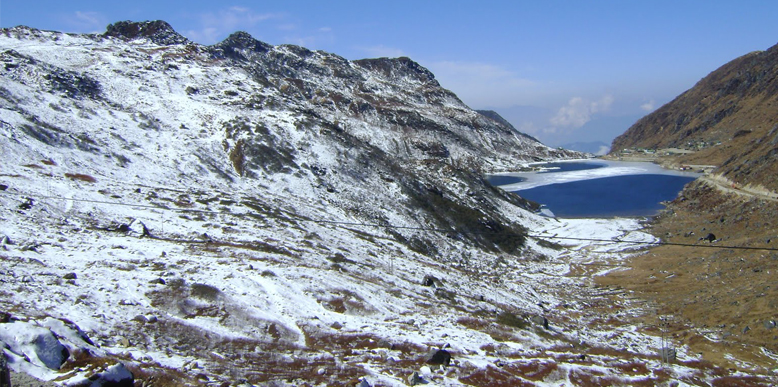 A day after our journey to Goechala commenced and we drove to Yuksom. Hey! Are you aware of it… I will name Yuksom to Beersum… LOL, Beer is so cheap out there. Further I was surprised to know that this town was once the capital of Sikkim and dilates a vast history. In contrast to its cultural base Yuksom I discovered is one of the major stopovers and has large influx of mountaineers from all over the world. It stands as base camp to trekking to Mt. Kanchenjunga.
Off from the ancient capital of Sikkim, Yuksom, which borders the Khangchendzonga National park, our trail headed up to Tshoka, which is 16 kms away, set at an altitude of 2900 mts, following the course of Ratong Chi River. Thereafter en route the tranquil hamlet of Tshokha the route follows to Dzongri passing through the rich alpine forest and Phedang alp at an altitude of 3650 mts. 'So MIND IT… it's going to be a steep climb. And it was getting cold.' From the Dzongri summit one can enchant the magnificent vista of the Kabru, Ratong and Kanchenjunga peaks. Nonetheless the rejuvenating view of the Singalila Range is also visible from this height. After crossing the Prek Chu River, the strenuous trail heads up to a lofty height of 3800 mts to Thangshing that nestles under the divine shadow of Mount Pandim. Passing through Onglathang and capturing the exotic ambiance of the lush green meadows the trek reaches the mesmerizing Samiti Lake from where starts the gradual climb crossing a dry lake at Zemathang to Goech La Pass, which is set at a mighty height of 4940 mts. Thereafter the journey trails back to Thangshing and heads toward a remote village of Lampokhari. Acquainting the cultural harmony confined within the lost terrain in Sikkim the trail then traces toward Kasturi en route Chamrey. Thereafter the journey has a gradual descend towards Tashiding via Labdang and there your circular trek ends having rural colors from the mighty heights of Sikkim.
So Ricky… that was it. A much brief on my expedition. Hope to hear from you on your score."
A paradise of Rhododendron… Varsey Trekking
That was a short one yet one of the beautiful treks in the Indian Himalayan Region… suave, refreshing and colorful, adorned with rare species of plants and varied flowers. Out from the bouquet it's a paradise of Rhododendron. It was a couple of days trek and an ideal one for families seeking for walking tours in India.
From Gangtok whizz the wheels to Pemayangtse en route Themi Tea Estate and thereafter the next morning drive to Damthang, which is approximately 17 kms from Pemayangtse. The trail to Varsey starts from Damthang, which is approximately 12 kms and takes roughly 5 hours. The walk, passing through the vase of nature dotted with wild flowers and rhododendron, simply offers an opportunity to eco travellers a soft and colorful adventure with myriad clicks and frames. Nonetheless on my way, I had some serious bird watching namely the Red-tailed Minla, Red-billed Leiothrix, Alpine Accentor, Besra, Black Bulbul, Streak-breasted Scimitar Babbler and Crimson Sunbird … that actually slowed down my trek to Varsey. Anyways by sunset I reached my destination and stepped into our campsite.
The next morning followed a soft and easy descends to Helly, which is approximately 3 to 4 kms from Varsey and takes roughly an hour or so. Thereafter we drove to Phur Cha Cho, a.k.a. Sulphur Water Spring, on the bank of River Rangit. An exotic stopover and the following day we whizzed down to Mirik and traveled along to New Jalpaiguri.
The dense days: I as a nature delver, onto the Green Lake Trek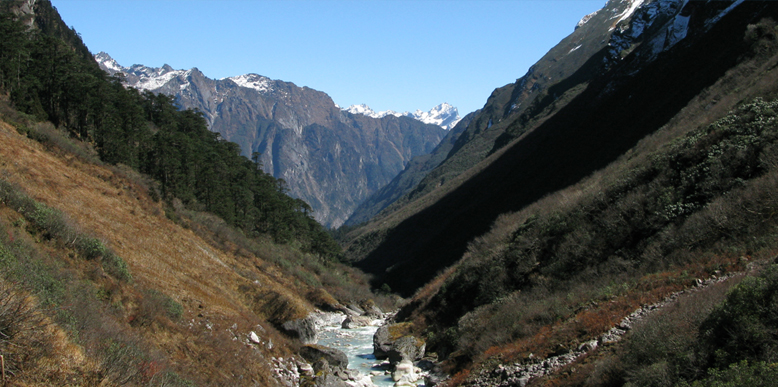 So I decided to reply back Lin on my delving turn to Sikkim after my South India Tour.
Hi Lin,
It was a nice read and quite adventurous. Send me the snaps ASAP.
I'm fine here and it's good to hear that nowadays you are onto the wonders of the world. Don't forget India herself is having 7 wonders of its own. So I guess you will be visiting India once again.
Things were of complete contrast when I once again stepped into the land of green Himalaya. From temple tours to nature trove, pilgrims to wild life and seaside clemency to the hulking high mountain serenity… the U-turn from southern tip of peninsular India to hills of North East turned out venturous, ubiquitous and chatoyant. To add further it also turned palatable. LIN!!! I was onto the Green Lake Trek in Sikkim. You must have heard about it from Russell… if not you must leave your footprints on this trekking route in Sikkim that starts from Lachen, set at an altitude of 2730 meters. Well, Lachen is approximately 7-8 hours drive from Gangtok.
Here we go… I along with three of my friends and a local guide. I was confused whether he was Lepcha, Nepali or Bhutia… they all look alike, you know that. Anyways our day trail one October headed towards Tallem, which is 3240 meters and roughly it took 7 hours or so. I rang up my intuitive photographer lying idle deep inside me… the process of CLICKOGRAPHY on NATURESCAPE took away most of my time on the up trail. After crossing the confluence of Zema Chu and Thangu Chu we reached our first campsite at Tallem. Things were getting icy at this altitude and one of my crew members already started to shower drops from his nose. Blah Blah Blah… no medicines were served to him but we started to live our RUM DIARY from that very night.
The following day mostly went passing through the dense forest en route Shobuk to Jakthang at 3430 meters. This trail has some major ups and downs but most of it was a 12 kms descend. Anyways we hoofed towards Yabuk the next morning, which was a steady, steep and slippy climb to an altitude of 4040 meters. There are several ascents and descends on the route, and is often wiped out of floods. Later we descend towards the bank of the Zemu Chu and follow the trail beside the river. After a tiring 8 kms day walk we reach the camping ground of Yabuk, which is a small but beautiful camping area very cold and windy near the glacier.
From Yabuk we headed up, the following day, to the rest camp perched at an altitude of 4725 meters. High enough to touch the sky. It was freezing cold out there. From the rest camp our trail the next morning descended to the Green lake camp, which is a vast open ground at an altitude of 4935 meters. Secluded in the midst of snowcapped peaks… the territory was completely untouched. The plan was to spend a day there but our kismet led us to camp there for couple of days. It was CHILLING FUN along with RUM-FIRE NIGHTS under the TWINKLE stars shinning bright in the midnight sky.
The back trail was unwished but had to and it followed the same route but in 3 days.