Top Family Adventure Activities in India
Posted by
Rashmi Rai
on Date May 14, 2014
If you have to define India in a single word then that word would be something like incredible, wonderland or spectacular. But what makes this Southeast Asian nation a winner of such tags? It is VARIETY. Yes, it is variety that adds real spice to India in terms of everything especially ADVENTURE.
From high-altitude trekkable passes in the Himalaya to off-beaten ancient caves of Northeast India and from the colorful world of coral reefs to the azure sky, India is truly a land of contrasting beauties. There is something for everyone to enjoy in this country. BUT, if you deprive yourself from the unlimited adventure only because you are a family man then it's time to break this conservative ideology. It is true that adventure tours and activities are meant for thrill-seekers and daredevils. But there are several activities that you can enjoy along with your family members and children. So, it's time to include these top family adventure activities in your holiday trip in India and have a blasting and thrilling vacation.
Trekking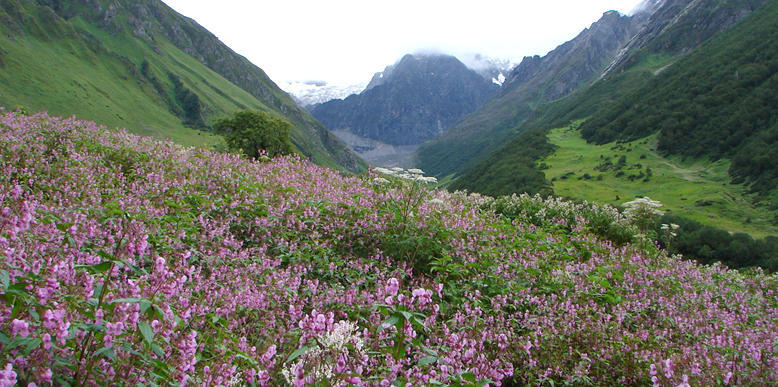 From the snow covered peaks, frozen lakes and lush green valleys of North India to the scenic valleys accompanied by vast stretches of spice gardens, tea and coffee plantations, and wild blooms of South India, trekking is one of the most most-sought after adventure activities in India. The mystic landscape of the country is adorned by numerous easy, moderate and difficult trekking trails, giving explorers from all over the world enough reasons to visit India again and again. Along with trails that are suited for experienced trekkers, there are various others that are more suitable for family travellers like Sham Valley Trek, Chopta Chandrashila Trek, Dzongri Trek, Valley of Flowers Trek, Har ki Dun Trek, Bhimashankar Trek and Chembra Peak Trek. The only thing that you require is GO-GETTER SPIRIT.
Best Places for Trekking: Ladakh, Himachal Pradesh, Uttarakhand, Sikkim, Arunachal Pradesh, Andhra Pradesh (Araku Valley, Ananthagiri Hills and Horsley Hills), Tamil Nadu (Nilgiri Hills), Karnataka (Coorg, Kodachadri and Kudremukh), Kerala (Peermede, Munnar, Chembra Peak and Paithalmala) and Maharashtra (Ratangad, Madangad, Rajmachi and Bhimashankar).
Note* Please avoid high-altitude and difficult treks if you are on a family holiday trip. Also, monsoon period is not regarded favorable for trekking.
Age Limit: There is no age restriction for trekking in India but it is advisable for children to be at least 10 years of age.
River Rafting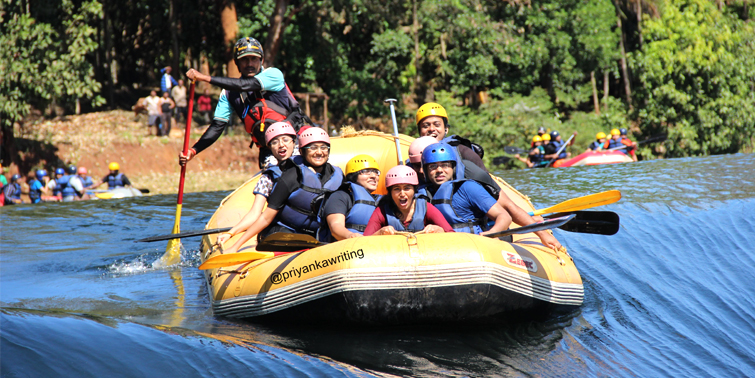 If you are in mood to taste the real adventure with your beloved then you must try white water rafting in India. There are very few recreational activities that can match the thrill of sailing on the swift untamed rivers of the country, especially the mighty ones flowing down from the Himalaya. For rafters, Rishikesh is the foremost place in India that they would like to throng for wonderful rafting experiences. But there are many more notable places in India where family vacationers can enjoy this thrilling activity.
Best Places for River Rafting: Ganga River (Rishikesh), Zanskar and Indus rivers (Ladakh), Bhagirathi River (Uttarkashi), Tons River (Garhwal region), Kali/Sharda River (Pithoragarh), Saryu River (Pancheshwar), Teesta River (Sikkim> and Darjeeling), Brahmaputra River (Arunachal Pradesh), Kundalika River (Kolad), Barapole River (Coorg) and Cauveri River (Bheemeshwari).
Note* Only a certain stretch of the above mentioned rivers with low grade rapids are meant for family vacationers.
Age Limit: There is no upper age limit for rafting in India as long as you are in good health but the lower age limit has been fixed at 12 years.
Wildlife Safaris

Considered as one of the top family adventure activities in India, wildlife safaris are all about bonding with the exotic flora and fauna species of the country. Every state of India is home of one or more wildlife reserves, some among which are world-famous like Ranthambore National Park, Corbett National Park, Bandhavgarh National Park, Kanha, Kaziranga and Rajaji National Park. It does not matter whether you enjoy an elephant safari or prefer motor-vehicle (jeep or canter) rides, a wildlife expedition with your family is always a great memory to live forever. You can also add a dose of thrill and excitement to your wildlife holidays ideas by selecting an accommodation within the precincts of the reserves. There are several wildlife sanctuaries and national parks that offer jungle abodes and resorts for visitors to stay.
Best Places for Wildlife Safaris: National Parks and Wildlife Sanctuaries throughout India
Camping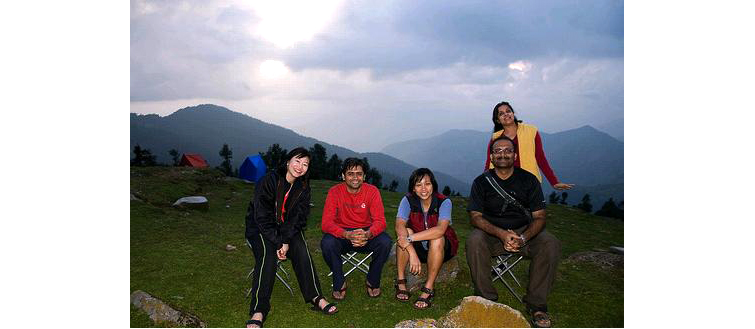 Let the Goddess Nature greets you in a world where the fresh breeze pampers your tired body and mind, and the serenity of the surrounding gives you ample time to devote with your family members, away from all the hustle and bustle! Camping is one of the most popular adventure activities for family vacationers in India. This eco-friendly activity not only brings you close to nature but also enriches children's knowledge about the country's rich biodiversity. There are several places in the country that are known for their exotic locations and are perfect for camping activities.
Best Places for Camping: Rishikesh, Nainital, Shimla, Mussoorie, Jaisalmer, Sonamarg, Solang Valley, Manali, Dharamshala, Pahalgam and Dalhousie.
Angling and Fishing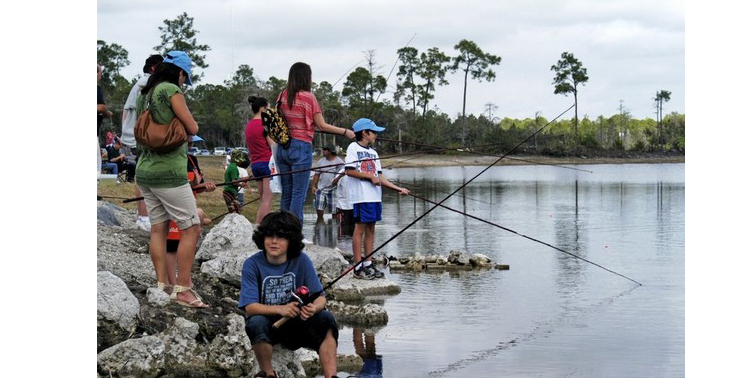 How about an idea of spending a whole day by the riverside, catching big and small fishes? Great and relaxing too! These are small things that give great pleasure, but these small yet precious moments seem to have been lost in the fast pace of life. Relive your childhood memories again with your kids on angling and fishing tour in India. It is true that angling and fishing are not meant for die-hard adventurous spirits but this water activity provides you a refreshing feel. India is dotted with several destinations that offer excellent fishing and angling experiences. From Trout to Goonch Catfish and from Golden Mahseer to several sea species, angling and fishing are two activities that are loved by people of all age groups.
Best Places for Angling and Fishing: Srinagar, Pahalgam, Pancheshwar, Ranikor, Beas Ghat, Ramganga River, Asi Ganga, Hathnikund, Tirthan Valley, Galibore, Bheemeshwari and seaside destinations.
Note* Special permits issued by the Department of Fishery are required for angling and fishing.
Skiing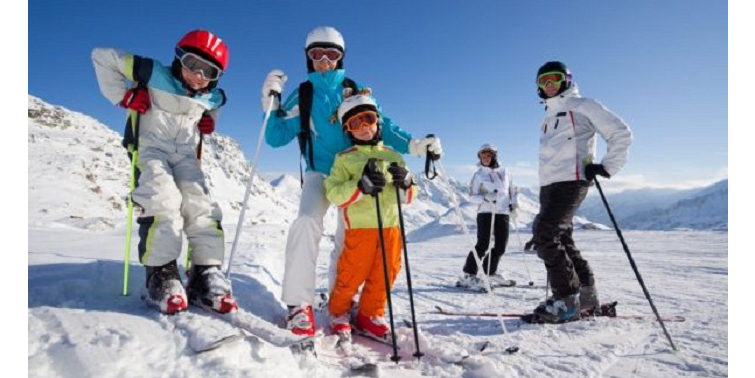 When it comes to winter holidays in India, one activity that everyone loves to do is SKIING. It doesn't matter whether you are a snow lover or not. Sliding on the slopes covered under thick blanket of snow is something that will add delightful moments to your family trips. India is blessed with several panoramic destinations that are considered a must-visit to enjoy skiing. With vast open spaces under the blanket of snow for you to glide down and snow-clad mountains forming the backdrop, there is nothing more left to ask from Mother Nature. Unlike Heli-skiing, skiing can be enjoyed with kids; however, proper training is required and there is no age-limit.
Best Places for Skiing: Gulmarg, Pahalgam, Auli, Solang Nala, Munsiyari, Manali, Dayara Bugyal, Kufri, Mundali and Narkanda.
Yak and Camel Safaris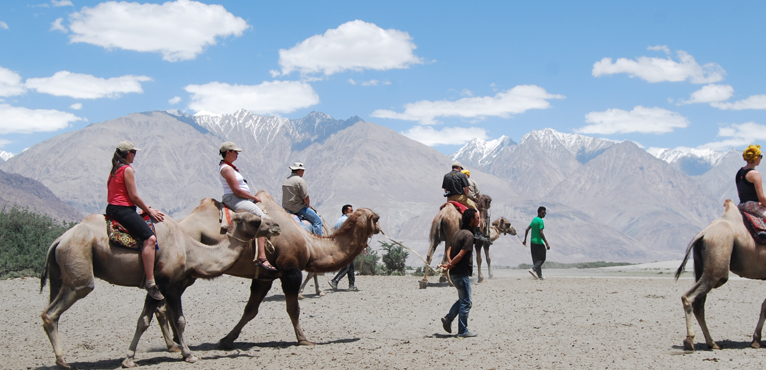 Yak, the largest animal of Ladakh, and Camel, the ship of the desert, are two animals that can make your family trip a memorable one. It doesn't matter whether it is the golden sand dunes of Rajasthan or white sand of Hunder Village of Nubra Valley in Ladakh, the fun attached with the camel rides is unparalleled. Similarly, yak safaris are a major attraction in the cold deserts of Ladakh. Exploring the frozen streams, chiseled snow peaks and glaciers' valleys of Ladakh while saddled atop a 1000 kg yak is a lifetime experience in itself.
Best Places for Yak and Camel Safaris: Ladakh and Rajasthan
Hot Air Balloon Rides

Compared to sky diving and hang gliding, hot air ballooning is less challenging but full of excitement and fun. Capture the views of the landscape while soaring high in the sky, and have a totally different experience that you will cherish forever. But what can be of more value to you than the priceless smiles of your children that this adventure activity can bring. Hot air balloon rides is a new entry in the adventure world of India but it is rapidly gaining recognition among family vacationers looking for something exciting and less risky.
Best Places for Hot Air Ballooning: New Delhi, Mysore, Kashmir, Jaipur, Jaisalmer, Jodhpur, Pushkar, Ranthambore and Hampi.
Age Limit: Children must be minimum 5 years of age and 1.5 meters tall. Pregnant women are not allowed to take this recreational aero activity.
Paragliding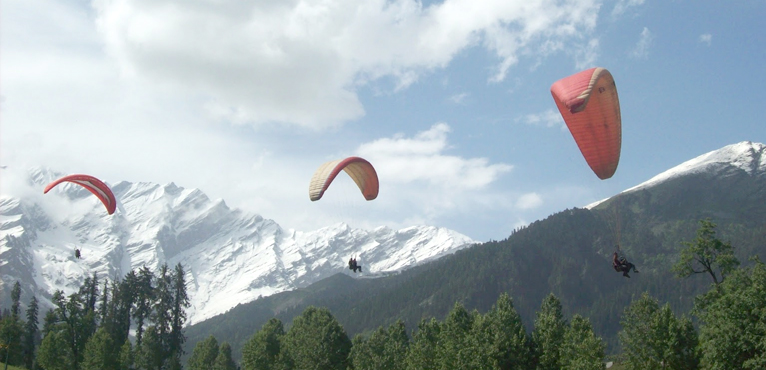 If you want to try an adventure that offers a fusion of open spaces and soaring heights then paragliding is a perfect choice. Fly like a bird in the open sky over the mountains, streams, valleys and forests, and capture the surrounding beauty through a bird's eye view. Paragliding is one of the most adventurous aero sports in India and is speedily gaining recognition among thrill-seekers. Being a new entry in the world of adventure activities in India, vacationers can enjoy this activity at a few limited places only.
Best Places for Paragliding: Billing, Manali, Nandi Hills, Pavana Dam (near Pune), Pithoragarh, Yelagiri, Munnar, Vagamon, Panchgani, Mahabaleshwar and Tapola.
Age Limit: For solo riders, 16 is the minimum age while kids up to the age of 12 years can enjoy the activity accompanied by guides and parents. Physical fitness is required for paragliding.
Jet Skiing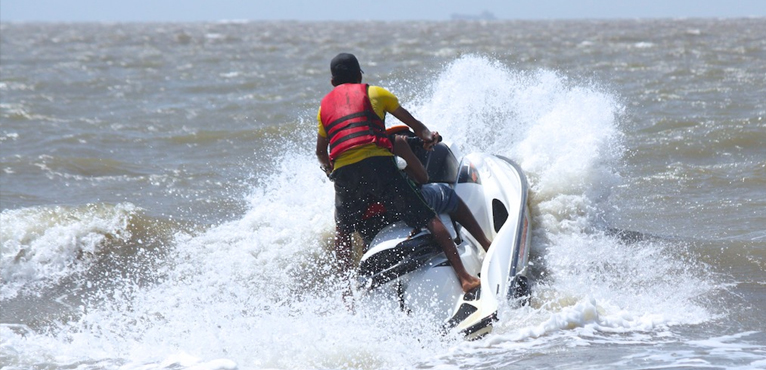 It is right to say that there is no way to ignore the appeal of water sports in India. The long coastline of the country offers lots of exciting things to do and enjoy for people of all age groups. But the thrill of cruising through the sea on a jet ski, with wind hitting you hard on your face, is truly mesmerizing for every adventure seeker, whether teenager or adult. This machine-powered recreational sport is one of the most in-demand adventure water sports among travelers in India. And there is no shortage of excellent seaside destinations in the country where you can indulge in this rejuvenating and fun-filled activity.
Best Places for Jet Skiing: Goa, Andaman Islands and Lakshadweep
Note* Children (below 15 years) must be accompanied by parents or trained guides.
Snorkeling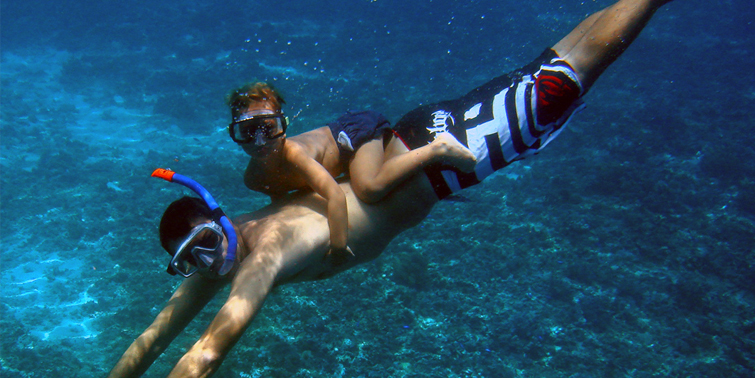 Have you ever thought of exploring the amazing under-water life? No! Try this time. Give your children and dear ones something unique and mesmerizing to share with their friends. India is one of the famous snorkeling destinations in the world. With places like Andaman and Nicobar Islands, Goa and Lakshadweep, where lie the colorful treasure of coral reefs and numerous aquatic species, snorkeling experiences in the country are simply awesome. Proper training is required for snorkeling and you must know swimming for this activity.
Best Places for Snorkeling: Goa, Andaman Islands and Lakshadweep
Age Limit: Kids must attain 10 years of age and must be sensible enough to know the value and significance of the under-water ecosystem.
Rock Climbing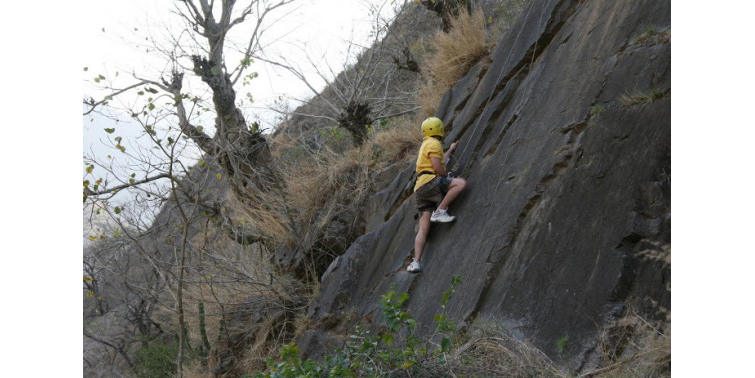 Because of the diversified and rocky terrain, India is an excellent destination to enjoy rock climbing. This out-of-the routine activity offers a perfect fusion of adventure and challenge. Rock climbing is an activity that demands great physical strength and mental toughness. Though more risky than other family adventure activities in India, rock climbing is something about conquering new heights and testing your inner strength against the natural roughness. Proper training is required for the activity and is not meant for toddlers.
Best Places for Rock Climbing: Rishikesh, Parvati Valley, Sar Pass, Miyar Valley, Shey Rock, Madhugiri, Paithamala, Savanadurga Hill, Ramnagar, Malshej Ghat and Badami.
Age Limit: If you want your kids to be involved in the activity along with you then the minimum age of the kid must be 12 years.
Rappelling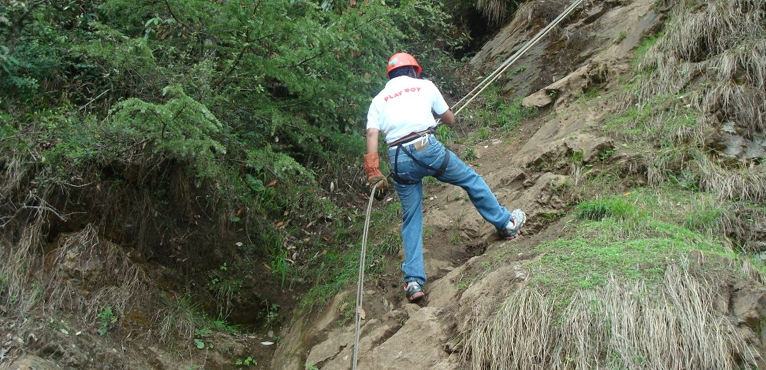 If you are fond of mountaineering but the toughness and ruggedness of mountains make you go weak at the knees then why not try rappelling, a challenging activity that gives you an adrenaline rush but in a less risky way. Rappelling is not about free falling, but it is a new genre activity that keeps you on your toes and feet. One more thing that distinguishes it from mountain climbing is that in rappelling, one has to come down from the topmost point by the help of a loose rope while mountain climbing is just the reverse of it. But what makes rappelling as adventurous and challenging as mountaineering is the rocky slopes, steep cliffs and control of movements. There are several places dotted throughout India that are ideal to enjoy this thrilling activity. The daredevils can also try waterfall rappelling, which is more risky yet full of adventure.
Best Places for Rappelling: Rishikesh, Mukteshwar (chauli ki jail), Khandala, Dandeli, Makalidurga, Manchinbele, Kolad and Naghotne.
Waterfall Rappelling: Vihigaon Waterfall, Vardayini Waterfall and Bekare waterfall
Note* Special training is required for the activity and elder persons, pregnant women, and people suffering from high blood pressure and heart problems are advised not to take up this activity.
Age Limit: Children below 14 years of age are not allowed to undertake rappelling.
Quad Biking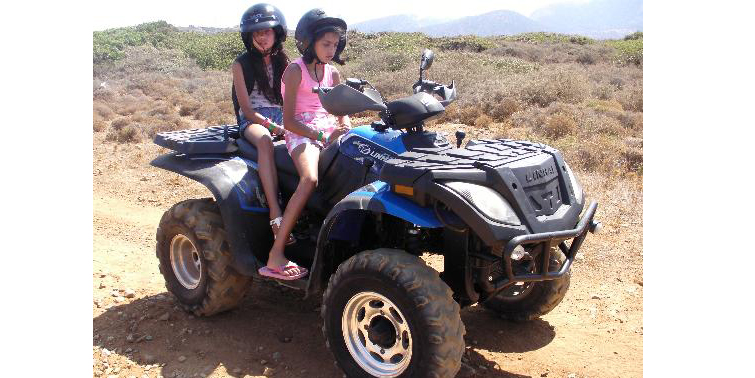 When it comes to fun and adventure with family then it is obvious that you will choose a destination endowed with beautiful attractions and that offers a variety of exciting things to do, especially for kids. It is right to say that there are very few activities that can match the playful mood of children and one among them is QUAD BIKING. It is really fun driving a four-wheel All-Terrain Vehicle (ATV). Designed for off-road drives, these bikes provide a wonderful riding experience and are ideal for forest terrains, rocky mounds and mud-lashed beaches. This activity is not only meant for children but can also be enjoyed by adults. There are separate quad bikes for children and adults.
Best Places for Quad Biking: Manali, Kollimalai (Tamil Nadu), Goa, Chandigarh and Bangalore
Age Limit: 12 years is the minimum age requirement for Quad Biking activity.