Himalaya Camping – Let's Visit Some Special Camps this Summer
Posted by
Arun Joshi
on Date May 28, 2014
"Miles away from the frenzied noise of the city life and free from physical exertion, camping in the Indian Himalaya is very soothing experience, especially for those who are desperate to escape the scorching heat of summers. It is a wonderful activity that helps you feel connected with Mother Nature."
Imagine strolling in the superb setting of harmony and opulence, impeccable service, breathtaking views of the snow-capped mountains and plethora of camping activities, memories one can take back home and cherish for a long time. Certainly, there are a number of camps enabling you to scout the mystic mountain ranges and breathtaking sceneries of India. The delightful experience of camping gets more exciting with the fall of white snow that adds a spice to your holidays in the Himalayas. While camping in the center of enthralling surroundings, relish the touch of white snow and exquisiteness.
Here is a list of fascinating nature camps in the Himalayas for this summer.
Camping in Ladakh- the land of amazing natural beauty:
A breathtaking place secluded by snow covered mountains, gifted with unique pristine lakes, beautiful monasteries and endless mountain activities; Ladakh is an idyllic escape from the humid of the plains. Camping in Ladakh is a refreshing activity for all those who seek peace and adventure amid breathtaking environment. Ladakh tenders plenty of opportunities for camping; in Rumbak valley on the snow leopard trek, Sand Dunes Camp in Nubra Valley, Tsermang eco camp and the list goes on. These camps have been set up to render travelers and nature lovers an opportunity to experience the heaven – "Ladakh". Be it an adventure holiday or a leisure holiday, camping in the Himalayas is a fantastic way of getting up close with nature.
Tsermang Eco Camp: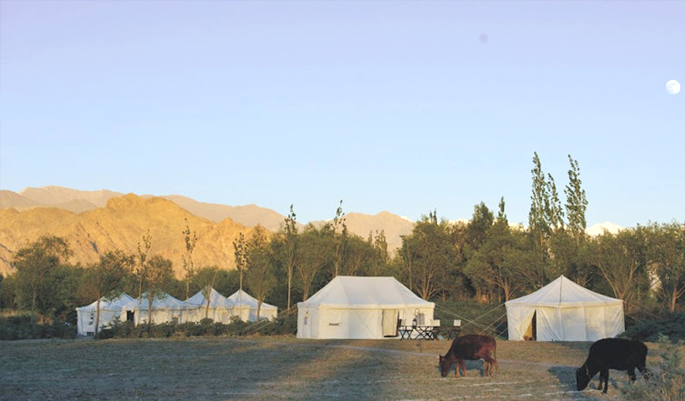 Perched just 2 mile from Leh, Tsermang Eco Camp offers you a mesmerizing sight of the Indus River. It has a tranquil ambience and stretches over 300 m by the side of crystal Blue River. It is certainly a dream-like destination. The adventure starts the moment you arrive here. Moonlit mountains, pleasant ambience and sparkling river make for a superb place to plan a holiday with friends or family.
Best time to visit: May to October
Sand Dunes Camp: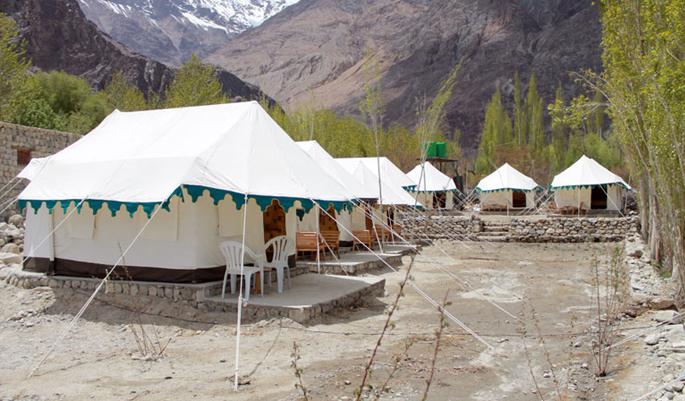 Nothing can be better than experiencing Sand Dunes Camp, which is a melange of tranquility and wilderness. It is nestled in Nubra Valley, which is one of the most splendid destinations of India in the midst of snow covered mountains. There are 20 deluxe camps with world- class facilities catering to the needs of every traveler. During the stay, one can relish the Bactrian camel ride, which offers a magnificent experience that lasts a long time.
Best time to visit: May to October
Camp Sarchu

Enveloped by amazing vistas of mountains, Camp Sarchu is situated at an altitude of 4200 m on the Manali-Leh highway in the state of Jammu and Kashmir. The scenery here is overwhelming. One can relish the beauty of the mountains and dig into a scrumptious cuisine at the dining hall.
Best time to visit: May to September
Camping in Garhwal – Feel connected with the best of nature
The freshness of the gentle wind, lofty mountain peaks, sprawling meadows, verdant beauty, camping in Garhwal is certainly a breathtaking experience that one yearns for. It is among the top camping destinations in India. Relishing a camping tour amid environs of Garhwal is in itself a pleasurable experience. There are some of nature's wonderful camping places where a great number of tourists, nature lovers, families and photographers are found camping throughout the year. Most of the camps in Garhwal offer you an opportunity to spend your day in white water rafting, trekking, and kayaking. Given below are some of the best camping places which will leave you amazed and speechless.
Chopta Valley:

One of the most splendid places on earth for camping activities, Chopta Valley is the perfect retreat for both nature lovers and adventure freaks. It is an easy trek that goes through the picturesque village and dense forests. Mesmerizing and splendid existence of real exquisiteness of nature makes you feel how incredible the earth is. You can also catch a glimpse of the Chandrashila trek in the Himalayas which is among the most renowned treks in this valley. It offers the sight of the Chaukhamba, Trishul and Kedar peaks. Relish Chopta camping to witness the nature closely. Spending some quality time in the forest tent invigorate one's mind and soul.
Best time to visit: Round the year except July and August
Har Ki Dun: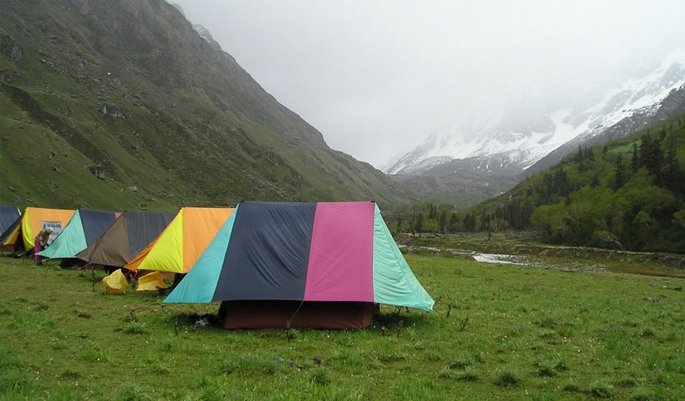 If you want to experience the emerald beauty of Uttarakhand, then visit Har ki Dun that remains packed with trekking enthusiasts, teens and nature lovers round the year. It tenders a rich flora and fauna and is also dubbed as the Hanging valley of Gods. Nestled at a height of 3556 m in the western Himalayas, there are many hiking options here tendering many beautiful memoirs to take back home. Camping around this area will have you great insights into the culture of the local people and wholesome experience that you will cherish for the rest of your life.
Best time to visit: April to June and September to November:
Bedni Bugyal: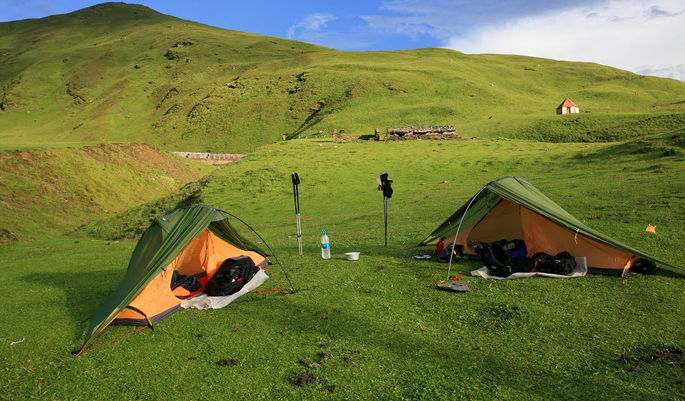 Bedni Bugyal is one of the most beautiful places in Uttarakhand. The spectacular sights are a feast to the eyes. Camping in Bedni Bugyal is an experience to treasure. The superb view of the Nanda Ghunti and Chaukhamba peaks are clear from here. The scenic mountains, deep valleys and lush green meadow are no less a paradise on earth. An ideal destination for nature lovers, there are many camps tendering a special vacation experience.
Best time to visit: May to June and September to October:
Camping in Himachal Pradesh- A blend of adventure and nature:
Feel connected with mother earth at a number of camping sites in Himachal Pradesh. Some of the famous spots are Lahaul, Kullu-Manali, Kangra and Dalhousie where you can escape from the swarm of crowds and unwind in the magnificent settings. It is the perfect way to spend your vacations in a unique way in the lap of nature. It tenders an opportunity for nature walks, trekking and climbing the mountains. One gets a superb chance to explore the exotic wonders of the Himalayas and stay amid the woods through camping. To make the visitors feel comfortable, plenty of useful facilities are rendered at the camps.
Shimla: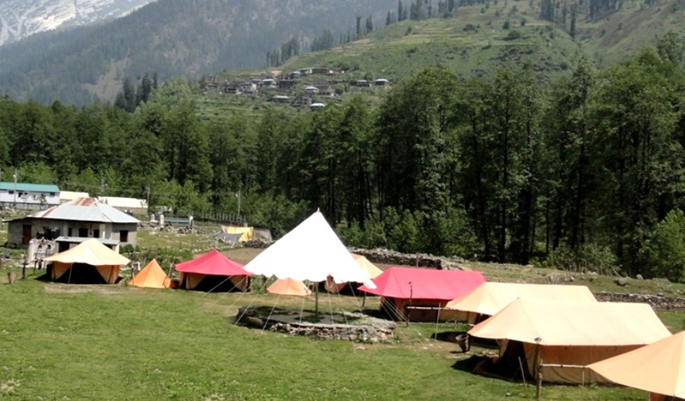 A scenic hill station in the middle Himalayas which is also hailed as Himachal, Shimla is a famous traveler destination in India and many a people from different parts of the world flock here to indulge in camping activities. With its salubrious climate, lofty mountains and appealing snowfall, there are many sites for camping in Shimla like summer hill, Shogi, Fagu and many more. These are the best places to experience the adventure in the lap of Mother Nature.
Best time to visit: April to October
Rajgarh
A site of great natural exquisiteness, Rajgarh is dubbed as peach valley in Sirmaur district of Himachal Pradesh. If you wish to experience scenery of wild flowers, tranquility, salubrious climate and lush green valleys, then nothing can be better than camping in Rajgarh. It is a wonderful site having various camps like Giri Camp, peach valley camp, Bodisatva camp and many more. One will certainly feel living in a dream world. Camping in Rajgarh offers impeccable service, exotic cuisine and a wide array of adventurous activities. You will feel mesmerized amid the thick pine and deodar forest.
 Best time to visit: Round the year except July
Sangla Valley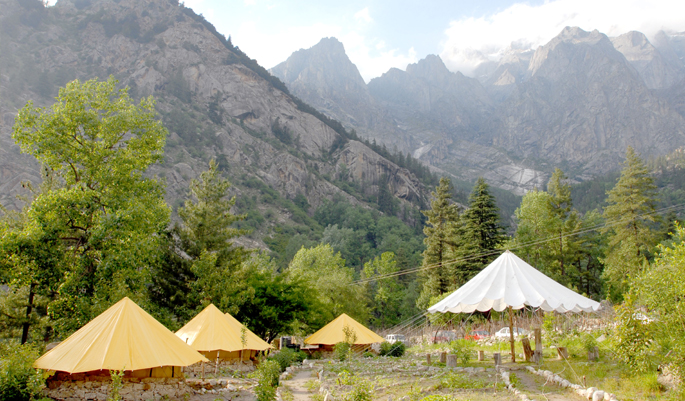 The murmuring of the river, gentle breeze, tweeting sound of the birds, apricot trees, scenic hamlets and apple orchards can be spotted through camping in Sangla Valley. One gets to experience the local culture, mores, river crossing and rock climbing in the surroundings of emerald beauty. There are many campsites where you can relish some of the delights and plunge in a plethora of camping activities. Nature walks to explore the magnificent flora of the valley, and hikes to sight snow covered peaks are some of the main highlights of this valley.
Best time to visit: April to October
Don't miss the picturesque camping experience in Kumaon
A home to Nainital, Pithoragarh, Almora and Bageshwar that tenders you charming places for camping at the side of lakes and forests, Kumaon is an idyllic place to experience the excitement of camping and trekking in the lap of the Himalayas. Pack your bags and set off to one of these camping destinations that offer exotic cuisine and deep insights into the culture of the local people. Relish staying in the camps with loved ones while hiking in the mountain regions. These appealing sites along with pleasant weather are winning hearts of both the national and the international tourists.
Mukteshwar:
Known for its stunning sights and salubrious weather, Mukteshwar is visited by nature lovers and adventure junkies from all across the globe. Some of the activities you can relish while staying at the camp are waterfall trek, sunrise trek, campfire, visit to village and many more. One can simply unwind in a breathtaking setting and relish the scenic harmony of the splendid mountains.
Best time to visit: March to October
Sattal:
If you are seeking for something unusual and new, then embark on a camping vacation in Sattal. Amalgamated with thrills and culture, Sattal camps have tourists coming in abundance from far and wide. Each tent is equipped with essential amenities to make the guests' stay comfortable and remarkable. Trekking 1 mile through Bhimtal valley which comprises small farms and beautiful villages renders a deep insight into the culture and tradition of Kumaoni people.
Best time to visit: March to October
Camping in Sikkim- Nature at its best
No crowds, no pollution, Sikkim is something that changes your mood and puts a break to your day-to-day routine. Combine your camping with hiking and leave all your worries behind. There are many camping sites around this region where you can relish the gurgling sound of river, aroma of nature, world-class facilities, lip-smacking cuisines and peaceful serenity of nature. So spend some days in the heights of Sikkim   and take back beautiful memories that you will love to reminisce with your loved ones in future.
Dzongri: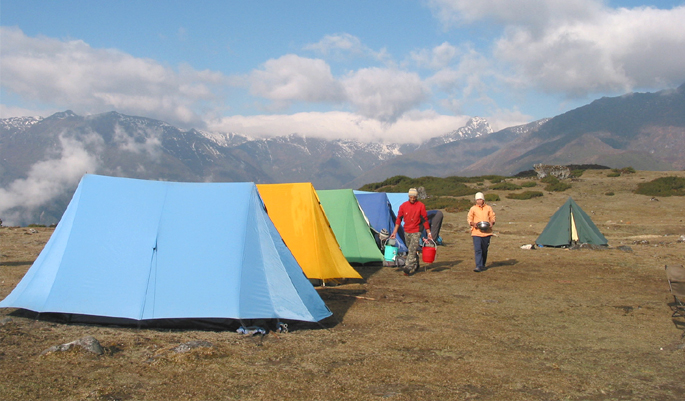 Among the best trekking expeditions, Dzongri trek tenders trekkers an opportunity to hike through the fascinating exquisiteness of the valleys and rich flora while staying at a camp. One can catch a glimpse of snowcapped peaks, crystal clear water flowing down in the valley and rhododendron forest adding a spice to your holiday. A feast for the soul; a delight for the eyes; an incredible experience that wins your heart, it is one such destination that one should not give a miss while planning a summer holidays in India.
Best time to visit: March to June and September to November
Singalila Ridge

Among the most splendid destinations in Sikkim, Singalila Ridge goes through woods and some renowned monasteries like Rumtek, and Tashiding making you familiar with the culture of the locals. The trek tenders a wonderful experience and allures the travelers from distant parts of the world. One can also relish camping while trekking in the land of the majestic Himalayas. Adventure freaks don't have a good deal than spending their vacations in Sikkim.
Best time to visit: March to June and September to November