Top 10 Trekkable Mountain Passes in India
Posted by
Arun Joshi
on Date March 25, 2014
In a country like India, where climate and topography bares its teeth whenever it comes to adventure; giving adventure freaks a reason to push their limits and rise above their capabilities. One such challenge comes from the Great Indian Himalayan region, which glisten with pride of being strong and tricky all times of the year. Its lofty peaks, its unforgiving weather, its treacherous trails and its nonparallel high mountain passes openly challenges trekkers and mountaineers from all across the globe. The magnificently created high mountain passes often devoid adventurist of their enthusiasm, yet giving them enough inspiration to set eye on conquering these. There are indeed many trekkable mountain passes in Indian Himalayan region that draws attentions of many trekkers, I wouldn't dare to call them easy but let's just say that they are worth risking your life for. Here is the list of top 10 mountain passes in Indian Himalayan region that a trekker should look forward to:
Borasu Pass: The Ancient Garhwal-Kinnauri Trade Route: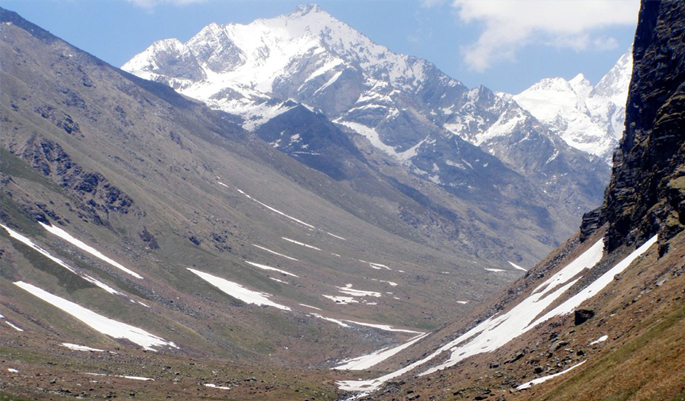 Situated at an altitude of 5450m above sea level in Garhwal region of Uttarakhand, Borasu Pass is one of the best trekkable mountain pass in Indian Himalayan region. There are two routes that lead to Borasu, first that begins from Osla, crosses through Manandi Tal, Lamjunga, Pass ke Neeche and finally leads to Borasu Pass. The second route on the side, flags off from Sankri and then covering Seema, Har-ki-Dun Valley submits at the Pass. This strenuous trek takes about 7 to 14 days respectively to accomplish, keeping in mind that the trek will finally conclude at Chitkul, Himachal Pradesh. With a certain amount of difficulties one trek till Manandi Tal, the further up climb from Manandi Tal to Lamjunga is quite rigorous offering a tough time to trekkers. A strenuous trek from Lamjunga, cutting across Pass ke Neeche (Below the Pass) finally concludes at Borasu Pass. The highest point of the pass offers incredible view of the Kinnaur Kailash Mountain and the U-shaped Kinnaur Valley.  The descent from the pass for Chitkul begins from the Zupke Glacier and a few hours of downhill walk lead to a grassy area. The next stop is Jairi campsite that eventually opens to a broad road to Chitkul.
Dhamdhar Kandi Pass: Adventure at Cloud's End:
The majestic Dhumdhar Kandi Pass is situated at an altitude of 5300m above the sea level and is considered one of the most challenging treks in Garhwal region of Uttarakhand. Trekkable as it is, the trekking route to Dhumdhar Kandi Pass undergoes many topographic changes. Trekkers are likely to notice a striking change in topography as they draw closer to the Pass. Starting from Jhala, the trek then follows a steep section that runs along the Sian Gaad River to Durai Gaad. Crossing Kyarkoti, the trail cut into the Ghantarao region, which displays a great variation in topography as large boulders and scree is all that can be seen here. An easy trail begins for the base camp of Dhumdharkandi Pass right after crossing the Sian Gaad River. There is a short ascent after a long trail over on the ridge from the base camp that finally leads to Dhumdharkandi Pass. The highest point of the Pass offers breathtaking views of Gangotri mountain ranges and Banderpoonch Glacier. After Dhamdhar Kandi Pass a short descent leads to Kalanag icefall and Banderpoonch Glacier with a long trek to Arjun Charra and finally Kyarkoti. One has the choice to further continue to Ruinsara Valley and trek to Bali Pass or end the trek at Yamunotri and return to Jhala.
Parang La: The Pass of Pure Adventure: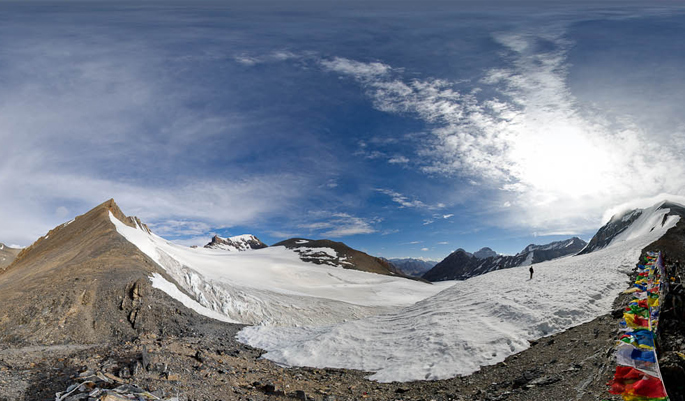 Connecting Himachal Pradesh with Ladakh, Parang La is situated at an altitude of 5500m above sea level. Located between Spiti and Leh, it is amongst the hot favourites of trekking aficionados. It can nearly take 10-12 days to finish this arduous trek that finally conclude to Karzok via beautiful Tso Moriri. The trek to Parang La begins from Kibber in Himachal. A short trek through a steep gorge leads to Dumla, another steep route cuts from Dumla to Thaltak Meadow, which is an ideal camping site. From Thaltak the trail becomes difficult and leads to Jagtha (4785m) and further to Bongrojen (5181.6m). A steep ascent from Bongrojen leads to Parang La. The beautiful view of Changthang Valley and partial Spiti is worth cherishing from the top of the Pass. The descend from Parang La to the source of Pare Chu River witnesses a drastic change in topographic, the trail becomes easier with opening to Dak Karzok Valley that further leads to Datang Yongma, Racholemo, Norbu Sumdo and then crossing to Chumik Shilde. From Chumik Shilde, the trail continues to the southern edge of beautiful Tso Moriri and covering the shore of the lake it finally concludes at Karzok.
Karakoram Pass: The Skeleton Trail: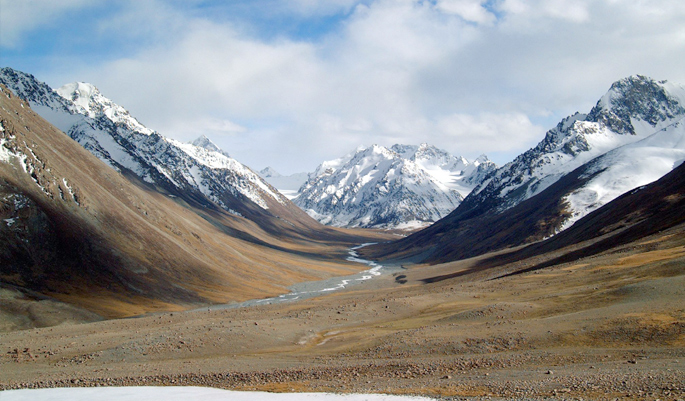 Silk Route as it is popularly known, Karakoram Pass aka KKP is situated at an elevation of 5540m above sea level. This mountain pass of the Indian Himalayan region is reckoned to be one of the most difficult treks in India. The level of difficulty can be very well estimated with amount of skulls and the skeletons scattered throughout the trail although you need not get disappointed with this fact as there are many success stories to tell as it was an important means for the trade between India and China. Although an arduous trek with long trails and steep climbs, it can however become one of the most unforgettable expeditions for any trekker. Awe at the magnificent landscape, the snow-clad lofty mountains and the sisterhood of mountain ranges can only be seen here.
The trek is flagged from Nubra Valley from the village named Sasoma. The trekking trail from Sasoma then leads to Tulumputi la and Jhingmoche after a steep climb. From Jhingmoche, the trail continues with an ascent to meadows of Skyangpoche (4600m) and then a straight trail to Tut-yailak (4750m). The trail cuts through a steep descent to the riverside and leads to Saser La. Cutting across the Shyok River Valley and crossing the suspension bridge, a steep trail towards the Chongtash Nala and a straight road to Kalon Chumik which meets a descending trail to Morgo Gorge, the trekking trail continues to Burtse Nala (4700m). A relatively easier stretch follows from Burtse to Despang Nala, but as the stream is left behind, the course starts to take a steep ascent and opens to more or less a plain ground of Track Junction at an altitude of 5400m. Few metres descending down the trail leads to Chip Chap River and then follows the Nala that flows from the Depsang Pass. Covering Old Polu and the new memorial one finally reaches the grand Karakoram Pass. One can take up the same trail for returning to Sasoma village in Nubra Valley.
Saser La: The Pass of Golden Sands:
If you see through an adventurist eyes, any level of difficult would seem as a goal. We who enjoy adventure sports and activities knows exactly what it is to live life on the edge, we fairly realize the vitality of a team, understand the meaning of devotion and most of all value of time. Adventure seeks a person who doesn't stop after achieving his targets, someone who has the greed to trudge further and break the confines of ordinary. A trek to Saser La can bring in you a confidence of conquering the world. Situated at an elevation of 5412m, Saser Pass can leave you awestruck and gasping for breath.
An important stopover, while you head for the majestic Karakoram Pass (5540m), the trail for this Pass is the same as that of the KK Pass. The trekking trail begins from Nubra Valley in Ladakh, where it road heads to the small village named Sasoma. A relatively easier trail leads to Tulumputi La for a sharp vertical ascent to Jhingmoche. A steep climb to the meadows of Skyangpoche (4600m) from Jhingmoche continues and cut across to a fairly levelled trail to Tut-yailak (4750m). From Tut-yailak a steep descent finally opens to Saser La. One has two options either to follow the same trail and return to Nubra Valley or camp at Shyok River Valley and then return to Sasoma Village of Nubra.
Phirtse La: Walk like Tibetans
Another trekkable mountain pass in Ladakh region is Phirtse La that stands at an outstanding elevation of 5450m. The trek is likely to take about 7 days to complete with its starting point at Manali, although the actual trek begins from Darcha Village, which can be reached by jeep or bus. Darcha is an ideal base camp for trekking and mountaineering expedition to Baralacha La, Phirtse La and Padum Valley.
The trekking trail to Phirtse La cuts through the picturesque Manali-Leh Highway and reaches to Patseo. As the trail continues towards Zingzingbar it encounters a change in the topography, the undulated and barren hills run along a mettaled road till Raoli, then unmetalled road takes the responsibility to lead the trekkers to Purthi region, which has fair patches of alpine meadows and coniferous forest. Cutting across Puruthi-Cherri, the trail demands a bridge crossing to reach Sach Khas. The route from Sach Khas follows the Leh-Manali Highway and reaches the double pass called Baralacha. Covering Kinlung Sarai, Lingti Chhu and Debni the trail takes an uphill climb towards Phirtse La. After Debni the trail becomes tricky and cuts through four canyons and few streams to open to a narrow valley that leads to Chummik Marpo. From Chummik Marpo the trail gets even trickier but the meadows leads to levelled road that finally meets at Phirtse La. Further the trail descends towards the left bank of the river Kargyak Chu leading towards a campsite called Zingchen. Cutting across Zingchen Pass the trail reaches Tanze. From Tanze an uphill ascent starts for Purni and Phuktal Gompa, then the trail descent to Kurgiakh and then to the Lahaul Range. Covering Chumik Nakpo, Zanskar Sumdo, the trek finally ends at Darcha.
Kalindikhal Trek: The Alpha of Adventure: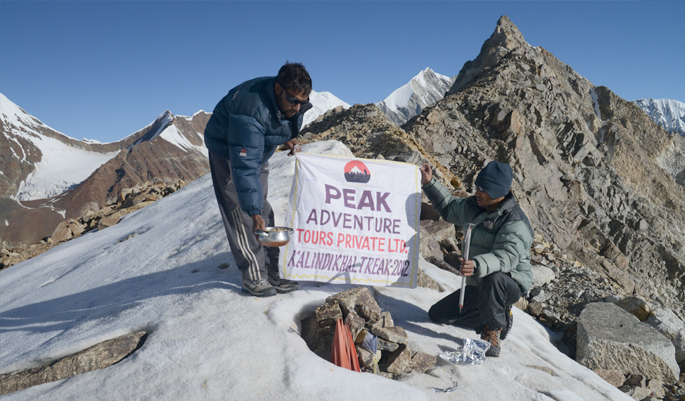 Although trekking in the Indian Himalayan region is full of adventure and to some point have a fatal risk factor attached to it, it largely attracts adventure aficionados who just dream to accomplish goals of such high altitude conquest. Situated at an altitude of about 5947m above the sea level, Kalindikhal Trek can ask you to push your limits way too far. One of the most strenuous yet picturesque treks in the Garhwal region of Uttarakhand, Kalindikhal Pass trek demands use of ropes, the ability to rock climb along with strong will power, great determination and the spirit of never giving up. The trek that begins from Bhojwassa takes about 16 days to complete.
The trek begins from Gangotri – Chirbasa – Bhojwassa, which is a small campsite at the foot of Gomukh and is at short distance from the sacred town of Gangotri. After Gomukh the trek is more like a sitting shotgun. The boulder-strewn trail leads up to Tapovan and descends to Gangotri glacier that further traverse along Chaturangi Glacier. The trekking route then cut through a meadows of Nandanvan, Lammergeyers and continue along Vasuki Tal, which is a small glacial-fed lake. Covering Khara Pathar, Sweta Glacier, Kalindi Bhamak the trail finally opens at Kalindikhal Pass, which offers splendid views of Mt. Kamet (7756 m), Mt. Mana (7272 m), Abi Gamin (7355 m) and Mana Parbat (6797 m).  On a clear day one can see the Tibetan plateau across the Mana Pass (6728 m). The steep descend to Raj Parav is followed by trail to Arwa Tal, the course then cuts through a gradual descend to Ghastoli that further leads to a dusty road to Mana. From Mana two options are available, either one can trek to Badrinath via the Mana Village or drive to Badrinath and later to Rishikesh.
Monirang Pass: The Road to Adventure in Himachal:
Just when you take off your shoes to finally get into the bed, your mildly aching feet compels you to rewind the bygone day in your mind… Rejoice! This is your hard-earned sleep right under the Vanilla Sky! The great Indian Himalayan treks offer a perfect combination of challenges and adventure, one such similar experience can be the trek to Monirang Pass in Himachal Pradesh. Situated at an elevation of about 5335m above sea level, this Pass was an ancient trade route between Kinnaur and Lahaul & Spiti region. It takes about 5 to 6 days to complete this trek that begins from Puh.
Puh is situated on the National Highway 22, which is also known as Hindustan Tibet Road can be easily reached from Shimla. The trail ascend to Ropa in the Ropa Valley, crossing Rusklang, which is a beautiful little village of the Ropa Valley the trek continues to a steeper ascent towards Giabong and Rankali. After crossing Rankali, the ascending trail finally meets Monirang Pass. A trekker has two options here either he can return to Puh from the same route or head for another high mountain Pass named Ghunsarng Pass via Sopona. The trail descends to Sopona to Ghunsarng Pass and via Susing, Rupa Gad and Ropa one can finally reach Puh.
Ghunsarng Pass: The Virgin Trail
As previously mentioned, the Ghunsarng Pass trek can be completed through the same route as that of Monirang Pass. Situated at an elevation of about 5600m, this pass can turn out to be a real challenge along with being one of the most picturesque Himalayan treks. It can take up to 4 to 5 days to complete with again Puh as a starting and ending point of the trek.
The trek begins from Puh, which is situated on National Highway 22. The trail further ascends to Ropa and continues along the river Rupa Gad. A strenuous uphill trail continues towards Susing glacier from where a, undulated, rough road cut through Ghunsarng Pass. From Ghunsarng Pass the trekker has two options either to return through the same route or head towards another mountain pass named Monirang Pass and then via Rankali, Giabong and Ropa finally conclude the trek at Puh.
The point to be noted here is that, Ropa, which is the next stop after Puh and Sopona which is situated between Monirang Pass and Ghunsarng are common stoppages for both the treks. There are two more trekking routes that one can plan to trek. One is the trek to Larsa Way Pass and the other is to Charang Ghati, which situated at an altitude of 5242m.  The trekking route for Larsa Way Pass also begins from Puh and via Ghunsarng or Monirang Pass, Sopona, Mane, Khar and Tiling. Civering Lang Thanga, Humti Thacha, Larsa Garang and Labrang one can reach the National Highway 22. Another interesting trek to take up is towards Charang Ghati. This trek can also begin from Puh and via Labrang, Morang and Kannu one can complete the trek to Charang Ghat.
Sin La: The Sole High Trail of Kumaon: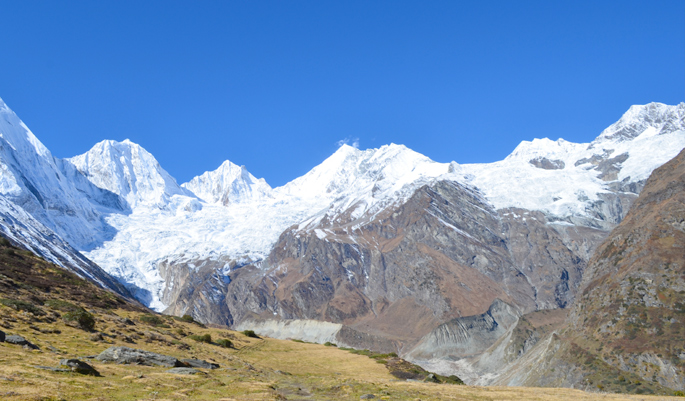 Sin la is another high altitude mountain pass situated at an altitude of 5495m in the Kumaon region of Uttakhand. The Pass was an ancient trade between India and Tibet. The trek for Sin La begins from Pithoragarh, which is a picturesque town in the eastern Kumaon region. The trek marked from Pithoragarh continues on the trail leading to Pangu and uphill climb to Sosa. Continuing through the undulated path towards Gala via Narayan Ashram and Sirkha, the trail then follows a steep descent to Budi through the River Kali. Trekkers can experience a sudden change in the topography between Budi and Gunji, where the trail is flower-strewn and has lush green meadows. The green path further continues to Kutti and via Jolinkong reaches picturesque Lake Parvati. About 15kms of trek finally leads to Sin La via Bedang. The same route can be followed to return to Pithoragarh.
India as a diverse land never fails to amaze us! Similarly the zeal of an adventurist can keeps us on our feet as well and when the two combines history is created! India is nothing short of a land of glorious history, it seems only the time and era has changed; there still exists legends that continue making history in many ways like trekking. Take India as your next goal if you want to experience adventure at its best.