Scuba Diving in India – Everything You Need to Know
Posted by
Arun Joshi
on Date January 2, 2015
"Every time you dive, you hope you'll see something new – some new species. Sometimes the ocean gives you a gift, sometimes it doesn't."
-James Cameron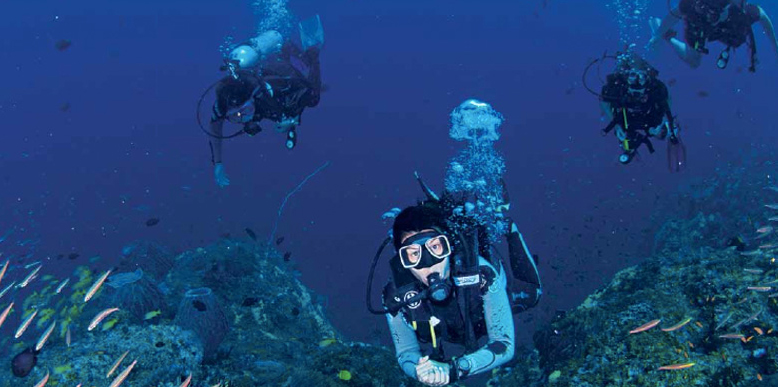 Surrounded by water from the south, south-west and south-east, India boasts many fine destinations where water adventure activities can be carried out. One particular water sport loved by the adrenaline junkies across the world is Scuba Diving. Mother Nature has bestowed this country with a potpourri of scuba diving destinations. Tucked away from the glare of the common public, the fascinating natural underwater is full of vivacious hues and exotic sea creatures. Scuba Diving is the best way to explore the adventurer inside you and get one with the azure seas. An empyrean for scuba divers, India offers the perfect setting to relish the fun and excitement of scuba diving.
The history of Scuba Diving in brief
People, especially those living on the coasts, at some point or the other have taken a plunge into the sea. In the 16th and the 17th century, man used to take the help of the diving bell, which is filled with compressed air, to travel to the depths of the sea. But gradually, many scientific developments took place in the field of sea exploration, as humans are always curious about the enigmatic sea life. In India, scuba diving has flourished to a great extent. It is now one of the prime reasons why adrenaline freaks from all over the globe are heading to India.
What are the best places for Scuba Diving in India?
India proudly holds an assortment of destinations perfect for scuba diving. These destinations offer the adventure freaks the opportunity to explore the stunning marine life and satiate their quest for spending some memorable moments in the turquoise heavens.
Here is the list of prominent scuba diving destinations in India:
Lakshadweep: The coral reefs are a prime attraction of Lakshadweep and add to the fun of scuba diving in this beautiful island. The crystal-clear waters along with the serene backdrop make it a famous scuba diving destination. Agatti and Bangaram are the two excellent scuba diving schools in Lakshadweep. It is the only coral archipelago of India where the blue lagoon is embraced by the rich marine life, luring in every adventurer.
Netrani Island, Murudeshwar: This tiny island is also known as Pigeon Island. Positioned in the Arabian Sea, Netrani Island is off the coastline of Karnataka. The island renders fine diving opportunities suiting every diver. The great variety of marine life in Netrani encompasses Stonefish, Napolean Wrasse, Great Barracuda, Turtles, Cobia, Stingrays, etc.
Goa: The enthralling environs of Goa is not just for partygoers. The freaks of water sports also frequent this place in large numbers. The marine life of Goa is rich in diversity. For the divers, Goa holds rocky patches, corals and shipwrecks that give the beaches a different look. A few of the institutions in Goa providing PADI certified diving are Dive Goa, Goa Aquatics and Barracuda Diving.
Andaman Islands: Andaman Islands are collections of hues and corals, immaculate reefs and amazing assortment of fish. The turquoise waters around the Andaman are untouched and tranquil. The schools offering PADI certification in Andaman are Bare Foot and Dive India. Some of the ideal sites for scuba diving in Andaman are The Wall, The Lighthouse and Elephant Beach.
Puducherry: The crystal-clear waters of Puducherry offers a great array of lionfish, corals, kingfish, etc. An adventurer can also come across whale sharks along with dolphins and turtles.
What is the best time for Scuba Diving in India?
One can embark on a scuba diving trip all through the year depending upon the region. The coastal areas of India display disparate climatic conditions and thus, it needs to be taken into account while deciding a scuba diving trip.
What are the essential tips to consider while Scuba Diving?
Here are some important tips that a scuba diver must keep in mind while diving:
One should be physically fit.
Follow all the instructions given by the instructor. Make certain that you have proper training in scuba diving.
Keep a distance from animals, especially those with vicious stings. Do not touch the aquatic animals without guide's permission.
Do not touch rocks if there are clear instructions to stay away from them. You may even be hurt by the rockfish.
Removing a coral is a legal offence and thus you should avoid it.
Never try to grab or ride the sea animals. Moreover, do not obstruct their path.
What is the checklist for Scuba Diving?
For Exposure Protection:
Under suit/Clothing
Hood
Wet/Dry Suit
Gloves
Boots
Jacket
Ankle Weights
Major Equipment:
Cylinder(s)
Mask
Snorkel
Fins
Dive Computer
BCD / Wing
Regulators
Weight Belt
Weights
Primary Regulator
First Stage
Backup Regulator (Octopus)
Contents/Depth Gauge
Equipment – Other:
Knife/Line Cutter
Reel
Buoy/SMB
Dive Light
Compass
Kit Bag/Dive Bag
Dive Logbook
Octopus Holder
Hose Holder
Whistle
Glow Sticks
Certificate/Qualification
Dive Tables
Slate & Pencil
Lift Bag
Talcum Powder/Lube
Buddy Line
Dive Flag
For Pony or Stage Set up:
Pony or Stage Cylinder(s)
First Stage
Second Stage
Contents Gauge
Backup Kit/Advisory Spares:
Backup Mask
Spare Fin Strap
Spare Mask Strap
Spare O-Rings
First Aid Kit
Allen Keys/Spanners
Spare Hoses
Accessories
Hoses
Mask & Fin Straps
Spares Kit
Batteries for Camera/Torch/Lights
Cable Ties
Extra Weights (as necessary)
Tool Kit
Additional Items:
Camera and Memory Card
Charts/Maps
Contact Numbers
Credit/Debit Cards
Does someone know your Dive Plan
Drinking Water
Food
Hat
Ice Chest
Insurance Details
Mobile Phone & Charger
Money
Passport
Reservation Information
Road Map
Sea-Sickness Tablets
Shampoo
Sleeping Bag
Soap
In every sense, scuba diving is a must-do activity for all who are passionate about adventures. With so many scuba diving destinations, India calls every adventure freak to embark on an exploration trip that will take them deep into the secrets of the sea.