Top Rock Climbing Spots in India: Destinations to Surmount the Cliffs!
Posted by
Arun Joshi
on Date January 7, 2015
Rock climbing is certainly a nerve-wracking sport, filled with danger, excitement and importantly the awe-inspiring sensation of triumph once you have scaled a high cliff. Moreover, this adventure is challenging both physically and mentally, entailing the need for great physical stamina and the skill to "read" the situation and pick the best course to climb.
Are you a person who has the zeal to wade through boulder-strewn roads and conquer many other challenges that the rock-climbing spots throw at you…? Well if you are up-to the challenges, then India is the place for you! The varied topography of India offers an assortment of rock climbing opportunities. Rock climbing in India is one of the best ways to satiate the adrenaline rush during an adventure trip.
Here is the list of top destinations in India where an adventure enthusiast can carry out the thrilling sport of rock climbing:
Karnataka: The Land of Sundry Topography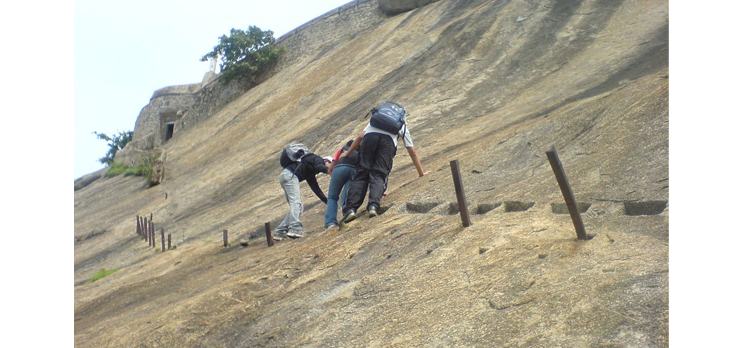 Major Rock Climbing Spots
Madhugiri
Savandurga
Ramnagar
The South Indian state of Karnataka is endowed with myriad boulder ranges that attract the adventure enthusiasts all-round the year. Madhugiri, also known as Maddagiri, is widely popular for its mammoth rocks overlooking the town. The giant rock in Madhugiri is the second largest monoliths in Asia. Savandurga, situated near Bangalore, is a great place for rock climbing. Other than rock climbing, one can also enjoy trekking and rappelling in Savandurga. This is not all; Ramnagar in Karnataka has also gained a remarkable popularity as a wonderful < a href="https://www.peakadventuretour.com/peak-climbing-expedition.html" target="_blank">rock climbing destination in india. From easy to the complex ones, all options for rock climbing are available for adrenaline junkies in India.
Best Time for Climbing: Although rock climbing can be carried out all through the year, it is advisable to climb before the day gets hotter. Summer morning is considered as the best time for rock climbing in Karnataka.
Himachal Pradesh: The Snow Packed Empyrean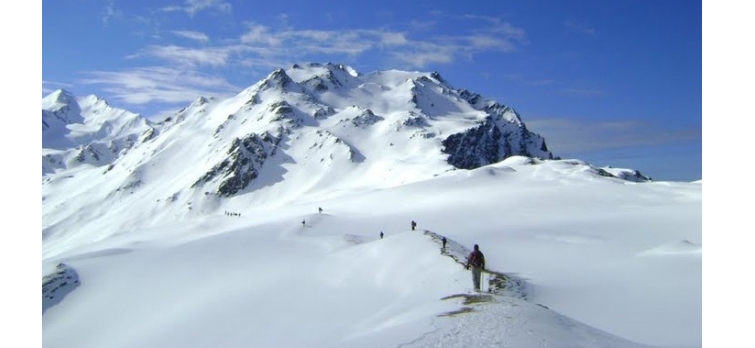 Major Rock Climbing Spots
Parvati Valley
Miyar Valley
Sar Pass Valley
The snow-covered Himalayas in Himachal create the perfect setting to enjoy rock climbing. For this reason, the region is swarmed by the rock climbers from all around the world. In Himachal, there are several spots where an adventurer can overcome the challenges posed by imposing boulders. Parvati Valley is filled with copious rocky outcrops that ensure a great experience of rock climbing. Miyar Valley, situated in the midst of the mighty mountains bordering Zanskar and covered with verdant woods, offers the ultimate thrill of adventure in a breathtaking ambiance. Sar Pass Valley is another such spot in Himachal where one can have a rendezvous with high cliffs.
Best Time for Climbing: One can enjoy rock climbing in Himachal the most during the period from April to October.
Delhi: Unwind Near a Bustling City
Major Rock Climbing Spots
Dhauj
Damadama
Nuh
The capital territory of India is interestingly a great place for rock climbing. SURPRISED? Well it's true. Damdama, Nuh and Dhauj are excellent places to carry out rock climbing around Delhi. Located about 55 kilometers from Delhi, Dhauj offers challenging rock formations that are easily accessible from the metro city. Damdama and Nuh also render rock-climbing apt topography that takes the fun of rock climbing to another level. For all those who want to satiate their adrenaline rush away from the mind-numbing rush of a metro, rock-climbing destinations near Delhi are just the ideal choice.
Best Time for Climbing: Winters are considered better than any other seasons to carry out rock climbing around Delhi.
Ladakh: Conquering Rocks in Paradise on Earth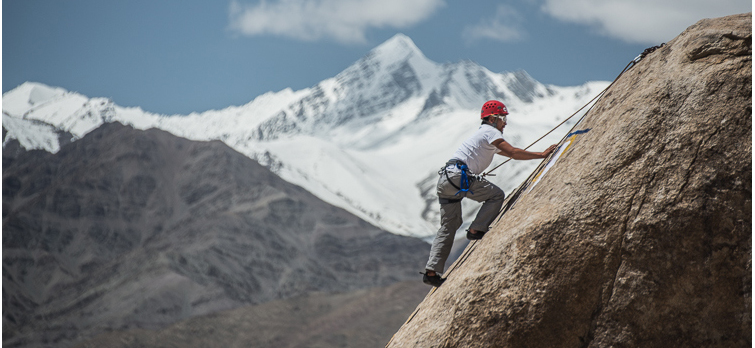 Shey Rock region in Leh is no less than a climber's delight. Loads of adventure enthusiasts come here every year to enjoy rock climbing. The rock formations of this region are noteworthy and beautiful. Experts and novices both can indulge themselves in this exhilarating sport. Moreover, the local inhabitants are very warm towards all who come here to enjoy an adventure vacation.
Best Time for Climbing: During winters, the area remains packed with snow. Therefore, summer is the best time to carry out rock climbing in Ladakh.
Kerala: Giving the Climber an Adrenaline Rush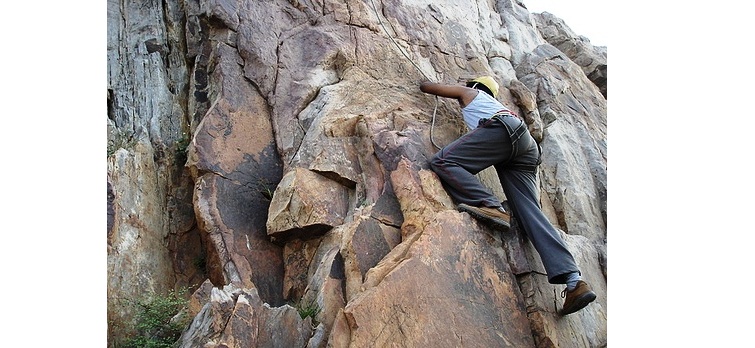 Pythal Mala in Kerala, positioned near Kappimala Village, is the perfect place for not only rock climbing, but for many other adventure sports as well. The region is an alluring adventure destination in the Western Ghats. Without a doubt, rock climbing in Pythal Mala is no less than an adventurer's dream.
Best Time for Climbing: The cool months from November to April are the best duration to carry out rock climbing in Kerala.
Mumbai: A Getaway to Take a Break from the Fast-Paced Life
Major Rock Climbing Spots
Mumbra
Borivali
The Western Ghats that stretches from the borders of Mumbai are a great place to enjoy rock climbing near the commercial capital of India. The most notable places for rock climbing around Mumbai are Mumbra and Borivali. These destinations are easily accessible from the major parts of this metro city.
Best Time for Climbing: Rock climbing around Mumbai can be carried out throughout the year except monsoon.
Kolkata: Triumph over Fear in the City of Joy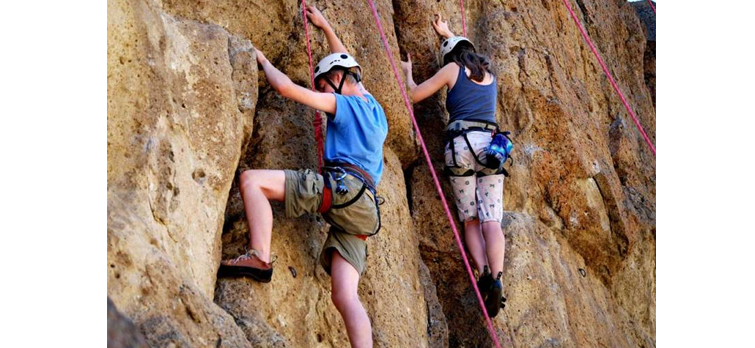 Major Rock Climbing Spots
Purulia
Matha Bura
Susunia Hills
Kolkata, the capital city of West Bengal, is without a doubt a great place for the adrenaline junkies. The rock climbing destinations around Kolkata are something that tenders an utter ecstasy to the adventure enthusiasts. Other than rock climbing, the adventure destinations around Kolkata are apt for trekking freaks as well.
Best Time for Climbing: The best time to get the maximum delight out of rock climbing around Kolkata is from October to mid-March.
The rock climbing destinations in India are unique in many interesting ways. So, what are you waiting for? Pack your rucksack and embark on a rock climbing tour to India!