6 Most Exciting Motorcycling Routes in India
Posted by
Arun Joshi
on Date February 10, 2015
The prospect of motorcycling along an endless road often beckons the kid in you to just to set forth on a journey of self-exploration.
The joy of experiencing new nook and corners of India cannot be replaced with any wild fantasy in the world. Ride on the magnificent snow covered mountains of Ladakh, dry desert of Rajasthan and Gujarat, eye-catching coastal lines of Chennai, and wildlife sanctuaries of North East. You will be surprised by how much is there to see. Going a motorcycle trip can be really an interesting activity, which you MUST experience and explore. If you are the one born to be wild on the roads, then ride your bike on these impulsive roads, and take your adventure expedition to an all new level. But before going with the details of these tourist destinations, sing the biker song:
"May the sun rise in front of me.
May the rain fall behind me and the wind follow me.
May the angels of my brothers and sisters who have gone before me guard my travels, for they know the perils of the road ahead of me.
Keep me safe through the rough city streets on my way to the land of the swirling turns and rolling hills.
Let the turning colors of fall keep me warm. Let the eagle guide me to the mountain tops.
Let the Moon's light guide me through the night
May my tires not fail me, nor my engine grow old. May my bike draw life from the streams I pass."
Once you're done with the singing, time for you to discover the tourist attractions that fall on the way. Trust me, these routes are not meant for faint hearted riders:
1: Explore the magnificent Manali – Leh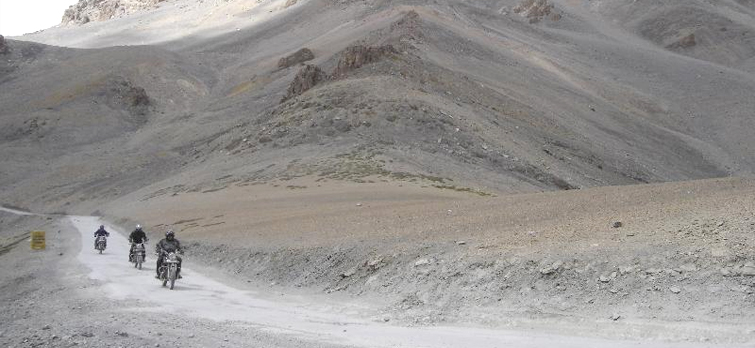 Vroom, Vroom, Vroom! Doesn't that sound excite you? Well, if yes! Then take your adrenaline rush to a new level by exploring Khardung La, the World's highest 'motorable' pass. Journey from Manali to Leh via motorbike will take you to the unexplored places which will be an experience of a lifetime. You will camp on the bank of sparkling high-altitude lakes, cross deserts and scale the high passes to take in a lifetime view over the biggest mountain range. You will experience a surprise at every turn of your bike. If you are looking for ultimate mountain biking adventures then Manali is the place to be.
Best time to visit: Mid June to September
Temperature: 30°C to 15°C in Summer & 15°C to -25°C in winter
Route: Manali – Jispa – Sarchu – Tso Kar – Leh – Khardung La – Nubra Valley – Pangong Tso – Thiksey – Leh
Distance: Approximately 1200 km
No of days: Approximately 7 – 10 days
Note – Beware of acute morning sickness
You may also like to read:
2: Spellbinding splendid mountains of Spiti Valley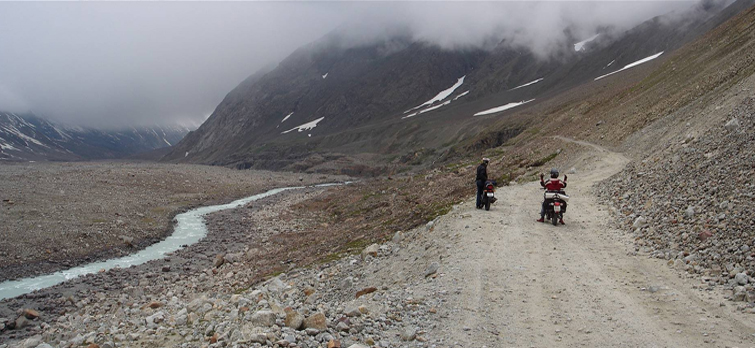 Go and unleash the little adventurer in you! This route will take you to some of the most unique and exclusive places of Himachal Pradesh. It takes around 10 days to complete the wonderful journey from Shimla to Manali. You will be astonished to see the oldest and largest monastic complex in the world, Spiti Valley. The awesome weather and awe-spring roads add to the joy of trekking here. If you want to see the highest village in the world, then opt for the Spiti valley route which ensures that the adrenaline keeps on flowing. One can take in the brilliant views of the Sutlej River, snow capped mountains, Pin valley and religious monasteries on their way to Manali. The rugged terrain along with the beautiful landscape attracts passionate bikers to explore the Spiti Valley trail.
Best time to visit: Mid June to October
Temperature: 25°C to 20°C in summer & 11°C to -12°C in winter
Route: Shimla – Sangla – Kalpa – Kaza – Tabo – Spiti – Kunzum – Keylong – Manali
Distance: Approximately 1100 km
No of days: Approximately 10-12 days
Note – Beware of heavy truck traffic in certain city junctions
You may also like to read:
3: Drive on the classic heritage dunes of Rajasthan

The motorcycling expedition is a great way to explore the classic heritage of a rich bygone era. Move your motorcycle up and down, experience the best of desert, a wildness which will never let you down. Motor biking on a desert is a fantastic experience which will take you to some of the sparsely populated regions. The trail will take you to the heritage forts, historical cities, arid deserts, Aravali ranges, and magnificent lakes.
Best time to visit: October to February
Temperature: 30°C to 45°C in summer & 15°C to 20°C in winter
Route: Udaipur – Jalore – Barmer – Jaisalmer – Makrana – Jaipur
Distance: 1070 km
No of days: 8 – 10 days
Note – Beware of pushing your motorcycle through the fine sands of the dunes
You may also like to read:
4: The misty landscapes of Meghalaya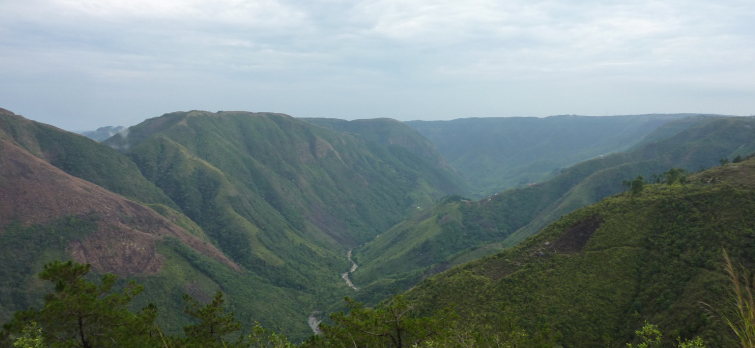 You will always remember the excitement of getting on your first motorcycle, and riding on it. Now, you can take that excitement to a new level by ridding your bike through the wettest place on the planet, Cherrapunji. A unique culture, beautiful scenery, cleanest villages, some of the highest waterfalls, this trail will take your motorcycling experience to an all new level. Ride alongside snow-covered peaks and flowing rivers with colorful prayer flags tied to your bike to ward off evil eyes.
Best time to visit: October to February
Temperature: 24°C to 15°C in summer & 15°C to 2°C in winter
Route: Guwahati – Shillong – Cherrapunji district – East Khasi Hills
Distance: Approximately 300 km
No of days: 5- 6 days
Note – Beware of landslides
You may also like to read:
5: Jaw-dropping curves of 70 Hairpin Bends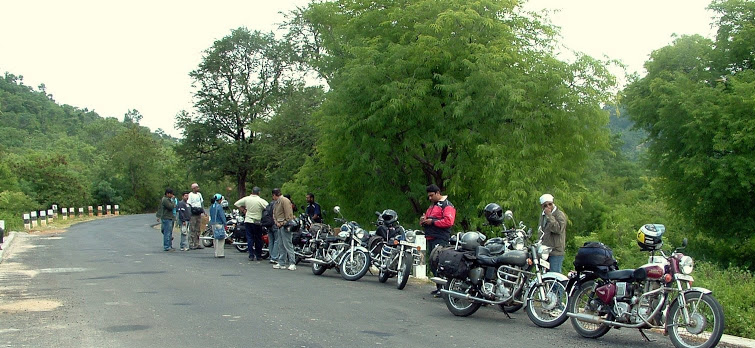 2 people, 1 bike, and 70 continuous hairpin bands? Yes, you heard it right? Experience this bumpy ride in Kolli hills or mountains of death. On your trail to 70 hairpin bends don't forget to view the stunning Akash Ganga waterfalls, old Shiva temple, and pineapple farms. The 70 hairpin bends is exciting and challenging for every rider.
Best time to visit: All year around
Route: Bangalore – Krishnagiri – Salem – Rasipuram – Kolli Hills
Distance: Approximately 270 km
Note – Beware of unexpected turns and curves
You may also like to read:
6: Enter the dreamy coastline of East Coast
If you are riding a motorcycle then you must be looking for something special like twists, vistas, perfect stretch, turnouts and above all bikers- friendly stops to add more fun to your trip. Beautiful seashores beckoning religious temples, tree fringed coastlines, flamingos, French settlement of Pondicherry, riding on the roads of the East coast is no doubt rejuvenating and refreshing.. Your trip will be full of culture, flavor, fair, and adventure which you will remember throughout your life.
Best time to visit: December and January
Route: Chennai – Kalpakkam – Pondicherry
Distance: Approximately 160 km
Note – Beware of unseasonal cyclones that can cause serious damage to the coastline
Motorcycle tours in India won't be complete without discovering the hidden flavors of the Indian culture. A motorcycle tour is certainly the best way to explore the hidden culture and secrets of India. Just be aware, be prepared and drive at safe speeds for a successful holiday. If you're done with your day dreaming, after reading about such exclusive places, then pack your backpacks, and set forth on these adventurous expeditions. See, your bike must be calling you!
You may be also interested in: