Best 15 Hiking & Trekking Trails in Nepal
Posted by
admin
on Date January 23, 2018
Nepal, is one place where the dreams of adventure lovers to scale heights to explore surreal destinations can come true. One can experience the real thrill of this adventure in Nepal where the high peaks, rough terrains and unparalleled nature's beauty give one a trekking opportunity of a lifetime. Ranging from easy to difficult trekking routes with lush green vegetation around a few trails; tough barren lands on some; and jaw-dropping views on others, Nepal trekking is an experience that you would not want to miss out on if you're an adventure junkie. Breathtaking mountains, beautiful scenery, exquisite wildlife and thrilling heights, a dollop of all these ingredients prepare Nepal as one of the best places for trekking lovers in Himalayas. Here is the list of top 15 hiking and trekking trails in Nepal where you can make memories that are forever to keep.
Everest Base Camp Trek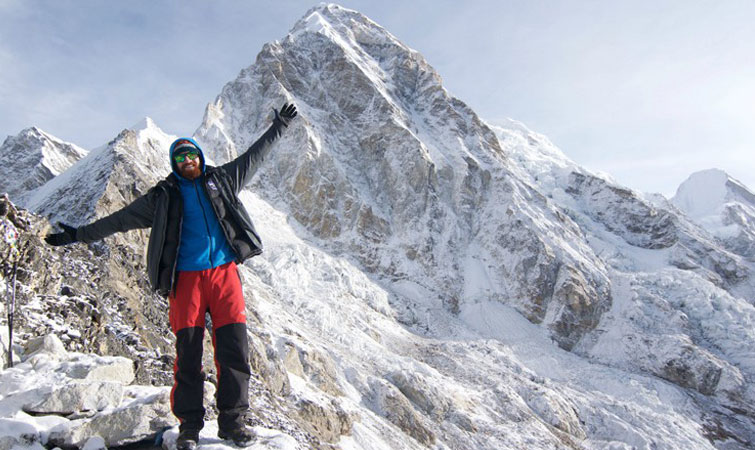 Eyeing on the highest peak in the world, Mt. Everest? Then this trekking trail should be your on list of treks to do in Nepal. This trek promises an exclusive trekking experience along with the chance to explore the famous Sherpa Villages. The natives of these villages are popular to have fantastic trekking skills with which they have been assisting mountaineers on a submit bid to Mt Everest. On this trek to the Base Camp, one can learn about the culture of the Sherpas and their unique way of living. The maximum elevation point of this expedition is known as Kala Patthar. One has to pass through unconventional trails which include Kalapathar and Nagakarshang. One will also visit the Sagarmatha National Park, witness the Imja Glacier which is melting at a fast rate and turning into a lake due to global warming.
Difficulty: Medium
Elevation: 5600m
Days to complete the trek: 12-13 days
Best time to visit: March to May and October to November
You may also like to read:
Annapurna Circuit Trek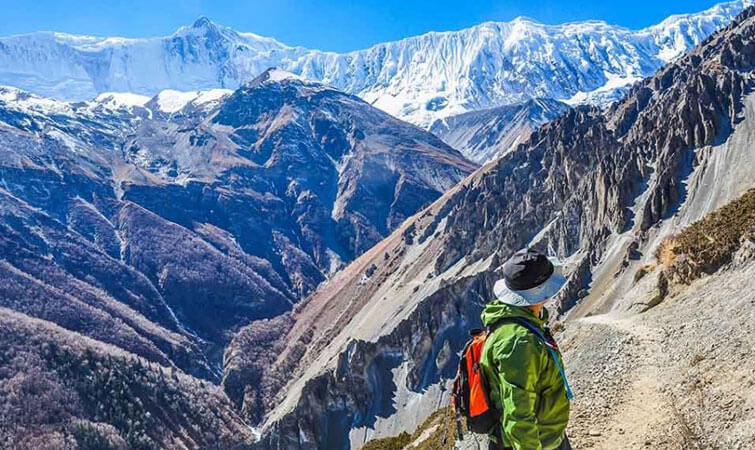 Starting from Besisahar town this famous trek in Nepal stretches over 160-230 kms. While on this trekking expedition, one gets mesmerized by the beauty of diverse flora and high mountains which include Annapurna II and IV, Gangapurna, Dhaulagiri, Manaslu and Langtang Himal. This fascinating trek in Nepal passes through a dizzying height of about 5416 m high passes of Thorung. Throughout this adventure expedition, one experiences dramatic changes in terrains as the trail runs through jungle, alpine meadows and arid hills. The trekkers can also enjoy a sight of Hindu holy temples and a Buddhist village situated along the path. After ascending to the summit, Thorung La, the trekkers descend to Charabu, which is another beautiful place to see on this hiking tour. Annapurna Circuit Trek is amongst the most popular treks in Nepal and is frequented by a number of adventure seekers every year.
Difficulty: Moderate
Elevation: 5416m
Days to complete the trek: 14 – 15
Best time to visit: March to May and October to November
You may also like to read:
Manaslu Circuit Trek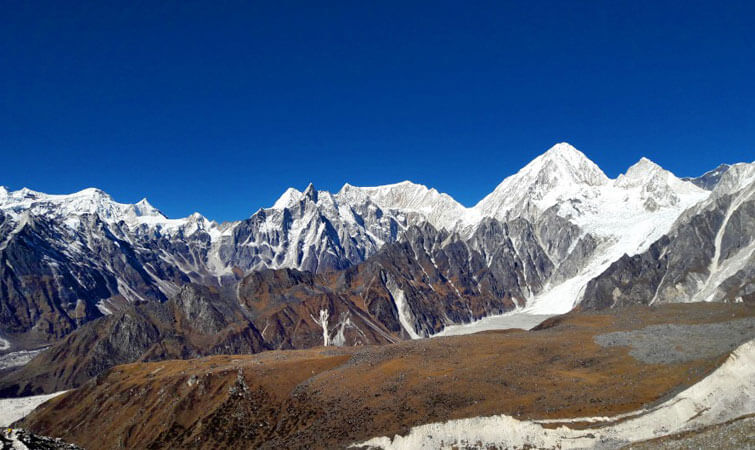 Termed as the best trekking trail in the country, Manaslu Circuit trek offers breathtaking views and an exhilarating trekking experience in Nepal. It gives trekkers the opportunity to witness the beautiful panorama of the Himalayan Mountains located on the Nepal-Tibetan border. Starting from as low as 700m, the trek gets rigorous as one go up. Crossing the lush green forests and other landscapes one reaches the summit of the trek which is at an altitude of 5135 m. Larka pass is the highest point of the hiking expedition from where the trekkers can enjoy the stunning view of Mount Manaslu. This trekking trail was opened in the 90's and since then, till date it offers a lot of thrill and gives an adrenaline rush to those who want to scale a height which is over 5000 m. It is to be noted that every 2 trekkers are accompanied by a Nepali guide during Manaslu Circuit Trek.
Difficulty: Hard
Elevation: 5115m
Days to complete the trek: 15 – 16
Best time to visit: March to May and October to November
You may also like to read:
Langtang Valley Trek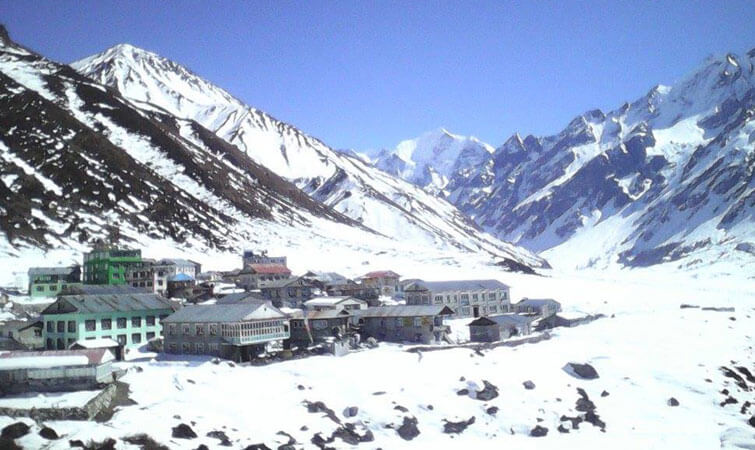 If you wish to trek the Nepal Himalayas, Langtang trek is one of the best options for you. A beautiful and comparatively shorter trail, Langtang Valley Trek is well known for its diverse vegetation and villages with culture and traditions. One of the major starting points of the trek is Syabrubesi from where the trekkers have to walk along the Langtang River. Moving in the east direction one will have to keep walking until he reaches Kyangin Gompa at an altitude of 3049 m. This Valley offers exceptionally stunning views of mountain panorama. It is ideal for those who are looking to explore the well-preserved Tamang culture, beautiful landscape and flora of the Langtang Region. The trek also takes you through the rose tree and the dense bamboo forest to the snow-capped mountain peaks which include Kyangjin Ri (4350 m), DorjeLakpa, and the only 8000 m high peak in Tibet, Shisha Pangma. Enroute, one finds the mesmerizing views of the Annapurna Range. While ascending to the Kyangjin Ri Peak one can enjoy the 360-degree view of the mountains of Langtang Region. Including Kyangjin Gompa there are several other monasteries that can be spotted during the trek.
Difficulty: Easy to Moderate
Elevation: 4,984m
Days to complete the trek: 8 – 10
Best time to visit: March to May and October to November
You may also like to read:
Dhampus Trek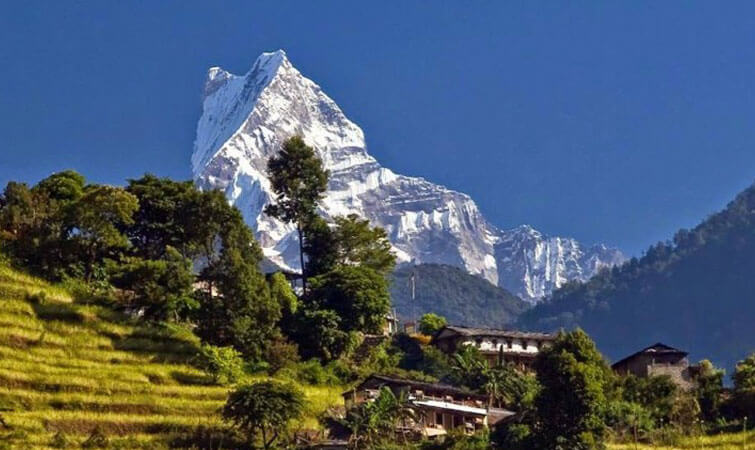 Showcasing a spectacular scenery and diversity in terrain, Dhampus trek is a classic trek in Nepal. Although it is a short trek but the view of the stunning Mt. Machhapuchare makes it quite a rewarding experience. One gets the opportunity to discover the beauty of the inhabited land of Nepal and the panoramic view of the peaks. The Dhampus Trek follows a stretch of woods, making it one of the best short treks for the nature lovers in Nepal. The trek offers an opportunity to also sight the beauty of the Gurung Village from the mountain viewpoint.
Difficulty: Easy
Elevation: 1700m
Days to complete trek: 2 – 4
Best time to visit: Anytime throughout the year
You may also like to read:
Tamang Heritage Trail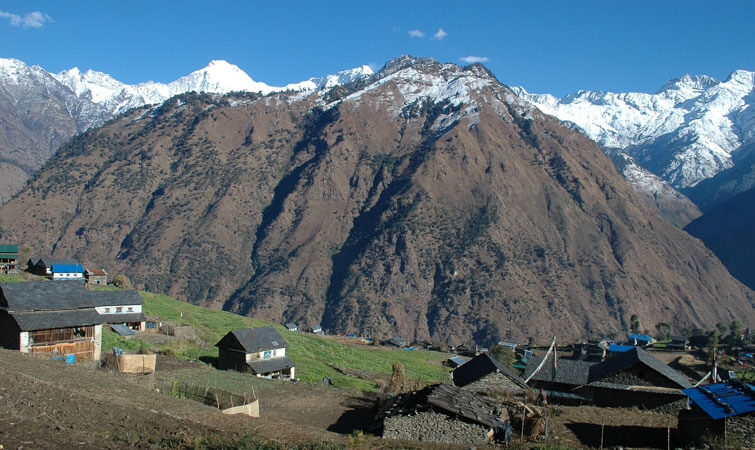 Experience one of the most exciting treks in Nepal, the Tamang Heritage Trail. This fun-filled trek runs between Langtang and Ganesh Himal. Tamang Heritage Trek is known for being the best for beginners as it is a moderate to easy trek. Apart from thrilling trekking experience, it rewards people with outstanding views of the Himalayas and an opportunity to get acquainted with the culture and traditions of the Tamang people who live in close vicinity to the gorgeous and offbeat destination in Nepal, Langtang.
Difficulty: Moderate
Elevation: 3870m
Days to complete trek: 12 – 13
Best time to visit: Throughout the year
You may also like to read:
Upper Mustang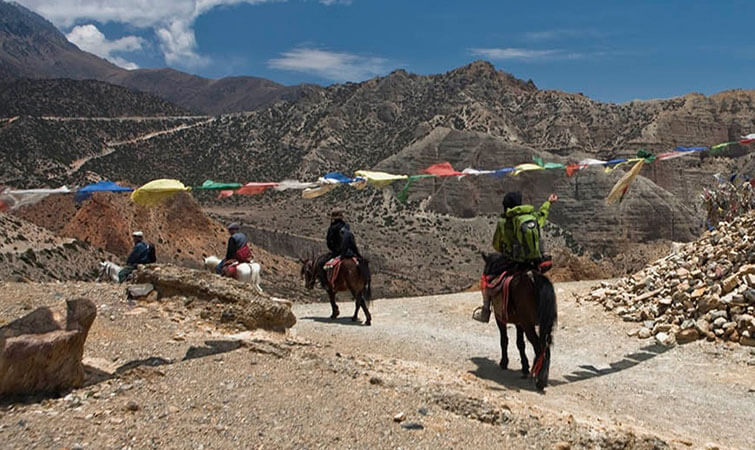 A picturesque and geopolitically sensitive area that gave way to the trekkers in the year 1992 is the Upper Mustang trek which starts from a moderate terrain and keeps getting difficult as you reach the higher altitude. Seated in the mighty Himalayas, Mustang is a paradise-like destination in Nepal. The trek to Upper Mustang allows you to go through tracts of barren and treeless lands also. Due to its location in the rain shadow area of the Dhaulagiri Mountain, Upper Mustang comprises of rugged landscape that look good to eyes. The trekkers follow an ancient salt caravan route and traverse alpine mountain passes like Lo (3950 m), which is also one of the highest points of the trek. The highest point of the trek is Dhakmar, which is home to world's oldest Tibetan monastery. The second highest point of the expedition is Lo Manthang, which is a rural settlement that has a culture and architecture to display. The thing that interests people the most is the Royal Palace, few monasteries that include Thugchen Gompa and the Amchi Museum.
Difficulty: Moderate to hard
Elevation: 3810m
Days to complete trek: 13 – 14
Best time to visit: March to May and October to November
You may also like to read:
Mount Kanchenjunga Trek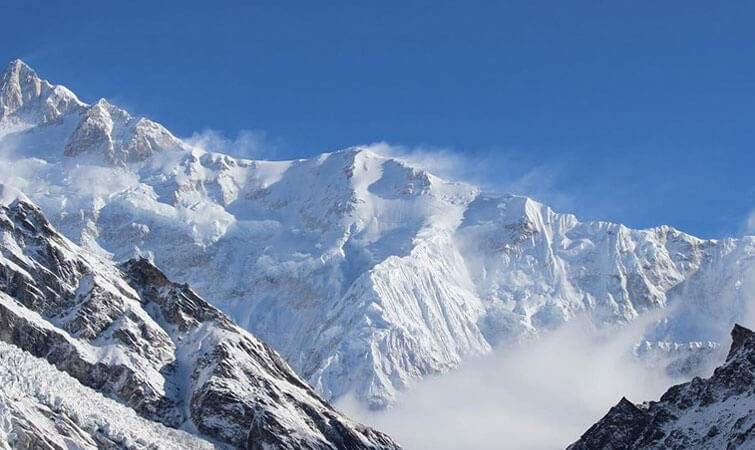 If you are a true adventure enthusiast, you can't miss the chance to be a part of this trekking expedition in Nepal. Reckoned to be one of the most difficult treks in the world, Mt. Kanchenjunga trek is indeed for the seasoned trekkers aiming to get one more successful trek under their belt. This trek starts from Suketar through the range crossing lush green forests that offer breathtaking views. The highest point of Mount Kachenjunga Trek is Pangpema (5143). The uneven terrain, the altitude, and the rough climate make it a difficult trek to scale in Nepal. Kanchenjunga Region is home to the Rai and Limbu ethnicities of Tibetan descent, whose villages fall along the way while you trek in the region. You'll be visiting one of the rural regions in Nepal, surrounded by absolute pristine nature. A trekker gets to experience the unique local culture and the heart-warmingnatural beauty as a reward for accomplishing this difficult trek in Nepal.
Difficulty: Difficult
Elevation: 5143m
Days to complete trek: 20 – 21
Best time to visit: March to May and October to November
You may also like to read:
Gokyo Ri Trek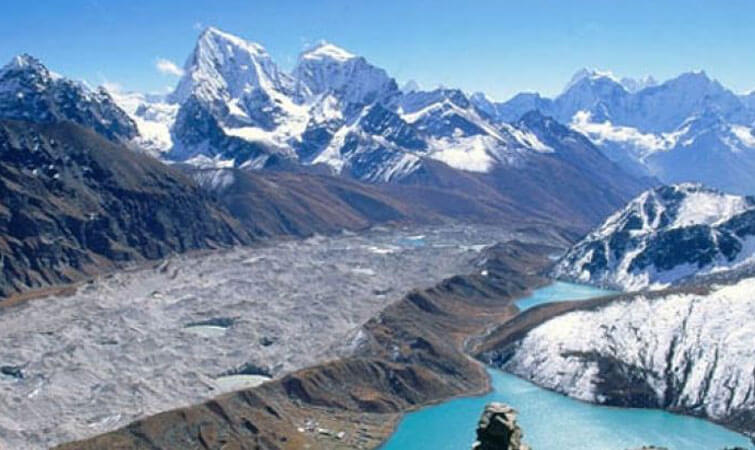 From the high mountain peaks to the mesmerizing passes, this trek offers wonderful sights and experiences throughout. Many people call this trek as an alternative of the Everest Base Camp because there are points from where the view of the surrounding are equally beautiful as they are Everest Base Camp's highest point, Kalapathar. Comparatively an easier route but yet exciting, Gokyo Ri Trek is one of the top trails in Nepal that rewards trekkers with the eye pleasing views of the mountain peaks which include Mt. Everest, Lhotse, Cho oyu, Mt. Kanchenjunga and Makalu. One of the major attractions of the trek is the magnificent Khumbu Glacier which is also the biggest glacier in the entire Himalayan region of Nepal. The crystal-clear water of the Gokyo Lake is another attraction that is the highlight of this must-do trek in Nepal.
Difficulty: Moderate
Elevation: 5357m
Days to complete trek: 12 – 13
Best time to visit: March to May and October to November
You may also like to read:
Ghorepani Poon Hill Trek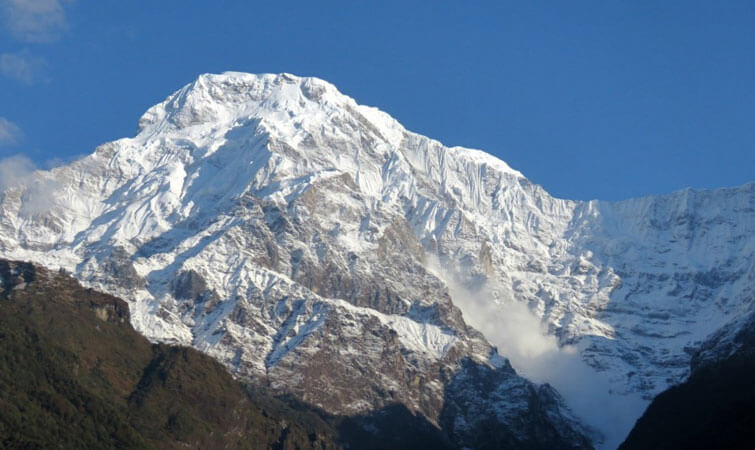 The sunrise view of the snow-clad Annapurna Range, at 3,210 meters, is a beauty that can be witnessed during the Ghorepani Poon Hill Trek. In comparison to the other treks in Nepal, this is an easy and a short trek along terraced farmland and among the great hospitality of the Gurung community, and thus, it can be counted as the best trek in Nepal to explore the beauty and hospitality of the Annapurna Region in a short period of time. People who are more willing or inclined towards knowing different cultures should choose this trekking expedition.
Difficulty: Easy
Elevation: 3210m
Days to complete trek: 5
Best time to visit: March to May and October to November
You may also like to read:
Upper Dolpo Trek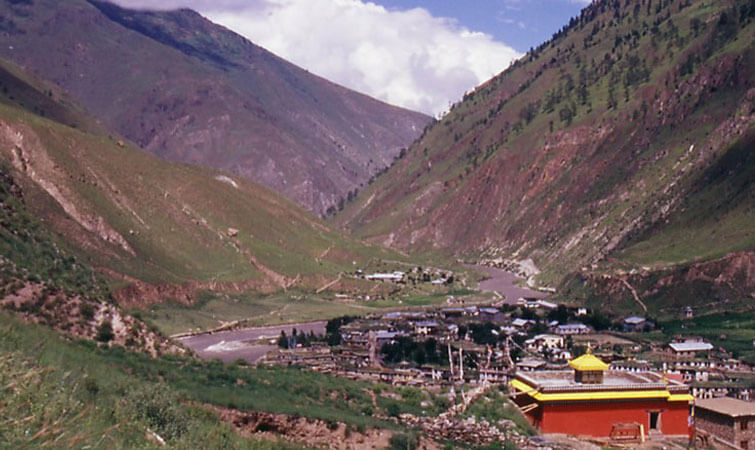 The Upper Dolpo is one of the most remote regions in the country and trekking here can be an experience of a lifetime. Though this trek is moderate, it offers sights that are truly stunning. Nagdalo La is the highest point of the trek. Crossing the mesmerizing landscape, observing local culture and viewing the elegant mountains, the trekkers find it really enchanting to trek up the Upper Dolpo of Nepal. Apart from Nagdalo La, one gets to cross the Jeng La (5110m) and Shey La (5350m) along the way. This expedition is a 21 days long journey full of excitement and stunning views. During the trek you get to also witness the beautiful Phoksundo Lake, Shey Gompa and the ancient trans-Himalayan trade route. This complete trek fills you with a lot of excitement and showcases the wild and untouched part of Nepal.
Difficulty: Moderate
Elevation: 5250m
Days to complete trek: 22
Best time to visit: March to May and October to November
Helambu Trek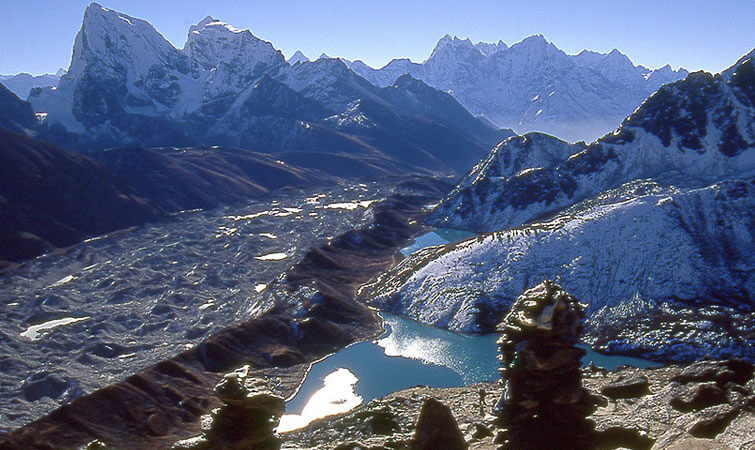 It won't be incorrect if we say that Helambu is one of the most beautiful places to see in Nepal that should be visited. It is also a perfect spot for trekking and similar purposes. If you are ready to embark on an adventure, then this trek is just the right option for you. Helambu is not just famous for its trek but also for its sweet apples as well as artistic Buddhist pilgrimage sites. It is a region of highland villages in Nepal, about 80 km from Kathmandu.
Difficulty: Moderate
Elevation: 3650m
Days to complete trek: 8
Best time to visit: March to May and October to November
You may also like to read:
Rolwaling Trek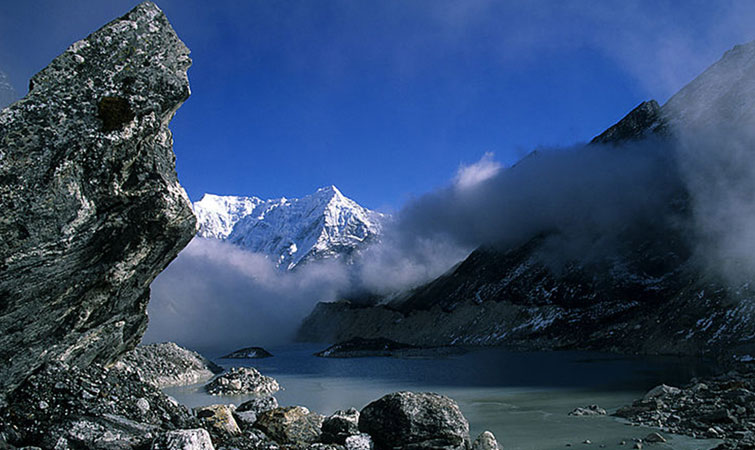 Nestled between the Gaurishankar Himal and Rolwaling Himal, Rolwaling trek is termed as the most beautiful trekking trail in Nepal. While scaling this mountain you will have glimpse of Sherpa community and the beautiful and spectacular view of Himalayan range. This adventurous trek has a lot for nature lovers as well, because the trail goes through gorgeous places which range from Rhododendron and Juniper forests. Known for being difficult, this trekking trail was discovered during the preliminary surveying of Mount Everest. Rolwaling is also called as Nepal's finest high valley.
Difficulty: Strenuous
Elevation: 6272m
Days to complete trek: 18
Best time to visit: March to May and October to November
You may also like to read:
Three Passes Trek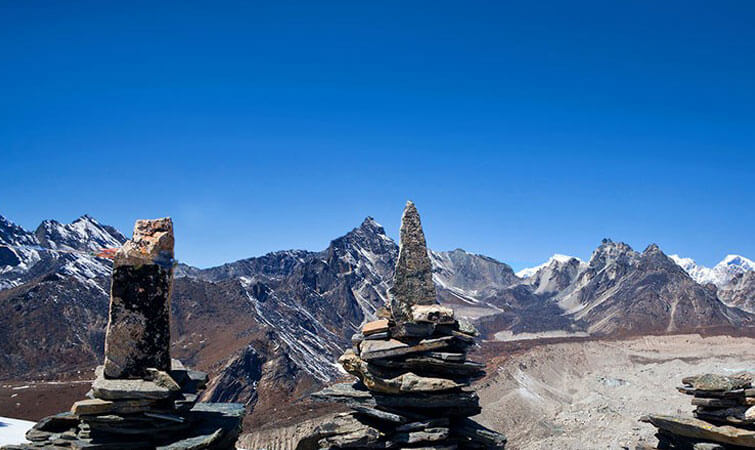 This trek gets its name so because one can reach the top point taking routes through Kongma La, Cho La and Renjo la. The Three Passes trek is the ultimate tour in the Everest region. This trek promises a melange of spectacular mountain views and heartwarming local culture. The main point of this trek is named as the Kala Patthar which is at a height of 5335 m. The topmost point of the trek is named as Chokhung Ri, which is located at an elevation of 5550. One can stand here and witness the mighty Mt. Everest face to face.
Difficulty: Challenging
Elevation: 5550m
Days to complete trek: 19 – 20
Best time to visit: March to May and October to November
Island Peak Trek in Nepal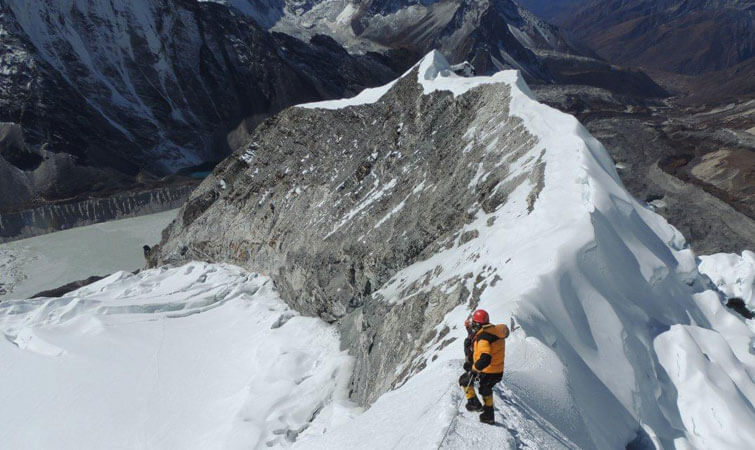 Situated at a soaring height of 6160 m above sea level, Island Peak is a beauty to savour in Nepal. A trek around this gorgeous peak is truly an experience that you cannot miss out on if you are an adventure enthusiast. Island Peak is mostly a non-technical trek with some basic snow climbing skills required for the ascent. It is a challenging trail that requires both trekking as well as mountaineering. The trekking starts from the Khumbu Region of the Lukla town, which is located at an altitude of 2850 m and from such height the view of the Himalayan Mountains is truly exceptional. Enroute, the trekkers get to see the petite villages that are located across some remote valleys and High Mountain passes. As you move forward you cross paths with the unique culture of the villagers, Buddhist monasteries and the beautiful DudhKosi River. One of the stopover points for trekkers is the Thyangboche Monastery gives a spectacular view of Mount Lhotse, AmaDablam and the highest mountain in the world, Mount Everest.
Difficulty: Challenging
Elevation: 6160m
Days to complete trek: 15 – 16
Best time to visit: March to May and October to November
You may also like to read:
The thrill and enjoyment is waiting for you so don't hold back and let your adrenaline rush flow and enjoy trekking in Nepal to the fullest. Also, if you want to know more about trekking and hiking in Nepal or want to avail our best crafted Nepal trekking packages, you can just give us a call at +91-9212553109 or send us an email at info@peakadventuretour.com. Peak Adventure Tours assures the best trekking tours in Nepal to make your adventure journey an experience that will never be forgotten.