Things to Remember When Going on a Motorbike Tour
Posted by
Arun Joshi
on Date October 9, 2013
Every year, passionate motor bikers pack their bags for long as well as short motorbike tours across India. Packing all the essential things has become their routine as they keep traveling and exploring new places while riding a motorbike. But, for motorbike travelers who are new with the concept of traveling get confused when it comes to packing essentials to carry along with them to make their motorbike tour much easier and convenient.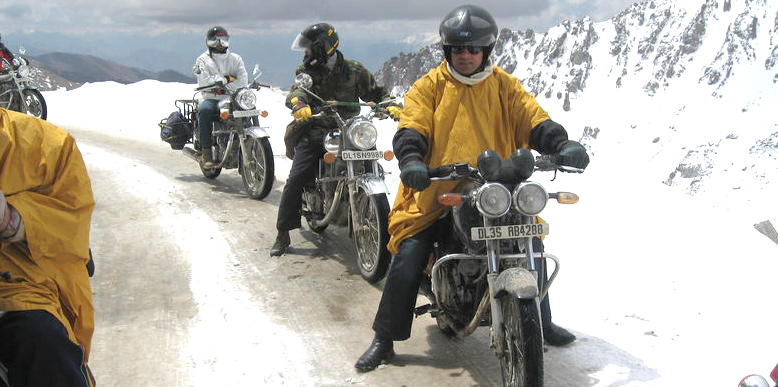 Most of the individuals who are new to the motorbike travel tour find themselves struggling with their pre-packing task. This is because they are not sure of the things that they must take along with them and things that they can manage without. Well, before suggesting anything, it is important to understand that the packing needs of the motor bikers can vary from one another depending on their personal needs and the destination they have chosen for traveling. However, there are a few things that every motor bikers must carry.
Below given is a list of things that you must carefully pack and carry during your motorbike tour:
Wallet: Few important things that you must have in your wallet before leaving for the motorbike tour are enough cash, debit and credit cards. Also, other essential things that you must have in your wallet include insurance papers, motorcycle registration documents, driving license and a paper comprising of contact number in case of emergency.
Toolkit: Be prepared for the need of a roadside maintenance that can occur any time. So, don't forget to carry your toolkit containing all essential tools required to fix the minor issues like adjustment of floorboards, tightening of a cable, replacing a blown fuse, etc. This way, you can save yourself from waiting for assistance on the road. Screwdrivers, fuses, clutch wire, pliers, electrical tape, wrenches, tire gauge, etc. are some of the items that you must have in your kit.
Rain Gear: Even if you are planning your tour in summer or winter season, it is advisable to always carry a rain gear in a saddlebag every time so that you can cover yourself completely whenever the rain occurs. Make sure to carry high quality waterproof track pants, jackets, gloves and boot, gaiters that can easily fit over your regular riding wears.
Road Map: Always carry a road map or guide with you so that you do not need to depend on the assistance of others while driving in the new place. Also, carrying a road map is essential because sometimes the network of your mobile may not work because of which you cannot use the navigation feature in your mobile phone to get the directions to your destination. You must also carry compass and attitude meter along for the assistance. This way, you can simply avoid taking the wrong route and reach your final destination with ease.
Apart from the above mentioned things, other essential packing items that might vary as per the individual needs include the following:
Personal items: Always keep basic toiletries like sunscreen, toothbrush, toothpaste, soap, antibacterial wipes, etc. that are useful in the daily routine. Carry an extra pair of spectacles in case you were eye glasses. Further, you should carry a small first aid with basic medicines to cure minor health issues or injuries.
Helmet: For enjoying a safe and secure biking experience, it is very important to wear a helmet. Make sure to carry a full-face helmet so that you do not get injured on two of the most sensitive parts of the body i.e. the face and the head in case of an accident. Note that your safety is in your hand. So, don't compromise with your own safety and cover your face well with a highly durable helmet.
Swiss Army Knife: Carrying a Swiss army knife is always a good idea. This is because it consists of a sharp blade, screwdrivers, opener and many others tools altogether. You can easily keep it in your pocket and take it anywhere while traveling since this knife is light in weight.
Clothes: Before packing your clothes, it is always suggested to check out the weather of the places that will come on the track, during your motor biking tour. Make sure to carry a jacket, pairs of jeans, riding pants, gloves, rain suit and balaclava.
The aforementioned is the list of things that you must follow when going on a motorbike tour of a few days, weeks or even months and have a wonderful trip with more of adventure and less of worries.